Photographer Rob Greer
I am a Houston photographer specializing in weddings, engagements, portraits, headshots, and products.

I'm a camera whisperer best known for delivering fun, candid, quirky, and beautifully photographed stories that celebrate strong emotional connections. And I have nothing to offer except maximum effort, unwavering commitment, and ambitious imagination.
As your photographer, I like to say that I'll take the best photographs of you that have ever been taken—or will ever be taken again. Unless you hire me for a different session or future event. In that case, those photos will be best.
My most important superpower is that I'll help you relax and look natural in front of my camera. I can also make you a super-savory, almost-dirty, three-blue-cheese-olive martini.
Photography Style
I strive for uncluttered compositions where you're isolated from distracting surroundings. Most people see my photography as clean, natural, and modern. I'm happy with those labels. I find my greatest joy in capturing photos of nature, people, and life.
One client compared my work to a Pizza Margherita pointing out my photography is simple, tasty, and made with a minimum number of ingredients.
On Artistry
I consider myself a craftsman–not an artist. Although I employ creativity and seek beauty in my photography, I value the craftsman tradition of repeatable workmanship, technical precision, and objective quality. My loftiest goal is to consistently deliver great photographs for every client–and especially for you.
Personal Profile
My friends think of me as honest, sharp, witty, friendly, dedicated, tenacious, responsible, intelligent, loyal, and driven while my sister sees me as a goober.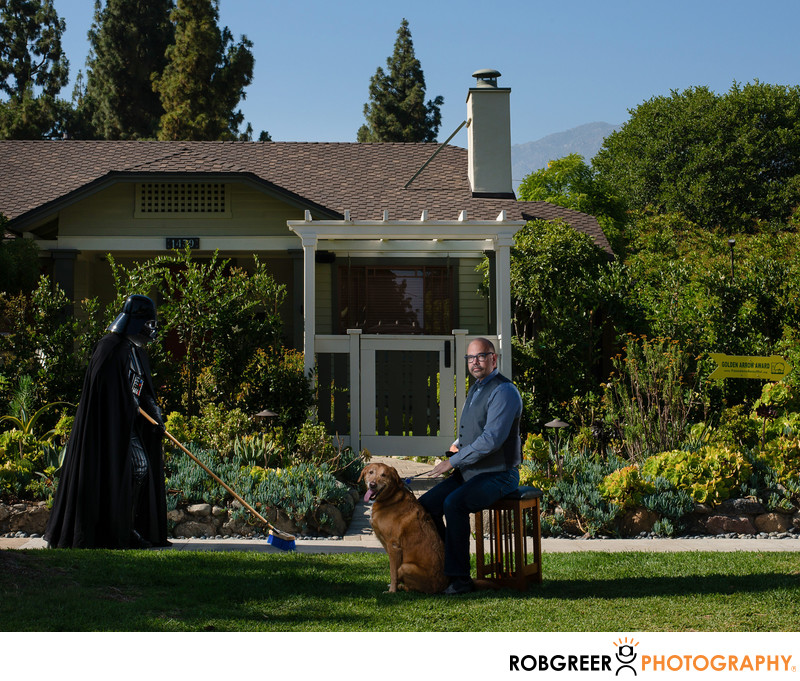 Me, my best friend Newt, and my second-best friend Darth Vader. Photo by JMC.
I resonate best with people who share my mild obsessive-compulsive tendencies. However, although I enjoy organizing shirts in my closet by color, style, and sleeve length, I don't expect you to share similar passions for planning and organization. But it would be really neat if you did.
History
I entered this world with a camera in my hand. My first photos were an autobiographical, photojournalistic birth essay published in National Geographic. Not really.
But if you're interested in my personal and professional path, here are some fun biographical tidbits you might enjoy. Or learn about my most important photograph.
Publications
My photography has been featured in countless publications including The New York Times, The Wall Street Journal, and People. If you're interested, view my longer publications list.
I'm also in the running to work for several made-up publications including Better with Bacon Magazine, Eating with Ewoks, Zombie Apocalypse Digest, and the Photographers-With-Super-Long-Bios Gazette.
Clients
I have super-cool corporate customers. To learn more, check out my most well-known clients. Or contact me for an extensive list of less-recognizable companies. They too are incredibly awesome.
Awards
I've been recognized with hundreds of photography awards. I've also been named Double Master of WPPI—making me one of only 32 photographers in the world who can claim that title. To learn more, you can wade through my lengthy, bullet-pointed award list.
Celebrity Subjects
I've had the honor of photographing many public figures. Check out my celebrity list. I've also photographed scores of total strangers. I'd like to photograph you too.
Public Speaking
I speak on the business of photography at regional, national, and international conferences. Several online education platforms also feature my classes. For more information about where I've been and where I'm speaking next, view my past and upcoming speaking appearances.
Competition Judge
I've served as a six-time photography judge at the WPPI Print Competition in Las Vegas. I've also twice judged the National Association of Professional Child Photographers (NAPCP) International Image Competition. I've also judged the RISE International Photography Awards and the I Am Photographer Festival Competition.
I've also judged McDonald's fast food, Walmart shoppers, and people who've never seen Star Wars.
Organizations
I'm a member of Nikon Professional Services (NPS) and Wedding and Portrait Photographers International (WPPI). I'm also a past member of Professional Photographers of America and the WPPI Wedding and Portrait Photography Conference + Expo Advisory Board.
Equally important, in high school, I was an active 4-H member and served as treasurer for the Electronics Club.
Beliefs
I believe black lives matter. I oppose health, social, justice, safety, and opportunity inequities. I won't tolerate abuse, discrimination, harassment, insensitivity, racism, or violence. Authenticity, empowerment, diversity, inclusion, and marriage equality are my personal and professional imperatives. I support people, organizations, and politicians who recognize these mandates. Let's have difficult conversations and grow together.
How to Hire Me
I love telling stories through my photography and I hope that my next story is yours. If you're still reading this incredibly long biography, I think you're amazing. Please contact me now, mention your accomplishment, and ask for your special prize!