Photographer Rob Greer
I am a Los Angeles photographer specializing in candid wedding photography, creative portraits, and commercial product photography.
I'm perhaps best known for providing fun, irreverent, quirky, and beautifully photographed stories that celebrate strong emotional connections.
As your photographer, I like to say that I'll take the best photographs of you that have ever been taken—or that will ever be taken again. Unless you hire me for a different session or event occurring some day in the future. In that case, those photographs will be best.
Style
In my photography, I strive for uncluttered compositions where my subjects are isolated from distracting surroundings. Viewers often see my photography as clean, natural, and contemporary. I'm content with those labels.
Through my photographs, I share my interpreted view of the world. That's one reason why I'm happy behind my camera. I find great satisfaction in capturing photographs of people, nature, and life.
Clients
I tend to resonate best with clients who share my mild obsessive-compulsive tendencies. That being said, although I enjoy organizing the shirts in my closet by color, style, and sleeve length, I don't expect my clients to share similar passions for planning and organization. Although it would be really neat if they did.
Some of my coolest and most well-known corporate clients include Microsoft, AT&T, Samsung, Nikon, Oracle, Penguin Group, Disney Book Group, Hyperion Books, Honeywell, Dun & Bradstreet, General Motors, Scott's Miracle-Gro, Avery Dennison, Nestlé, Villanova University.
And Barnard College, HEAD Penn Racquet Sports , Los Angeles County, American Institute of Aeronautics and Astronautics, Sotheby's International Realty, The Aerospace Corporation , and Reebok.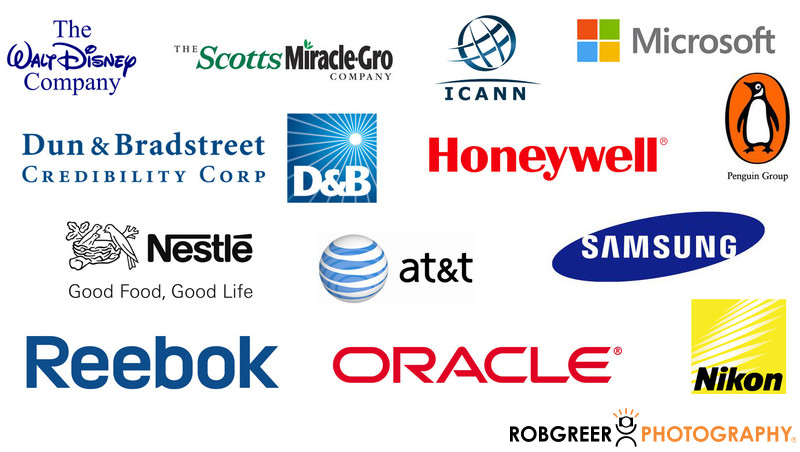 Please let me know if you'd like to see a long list of less recognizable clients. Because those folks are really important to me too.
Publications
My words and my photography have been featured in The New York Times, The Wall Street Journal, People, US Weekly Magazine, USA Today, Entertainment Tonight, TV Guide, the Knot Southern California Magazine, Brides, Rangefinder Magazine, Shutterbug Magazine, HuffPost, Perez Hilton, Yahoo Finance, The Advocate, Out Magazine, the Daily Mail (UK), The Hollywood Reporter, Variety, Deadline Hollywood, Professional Photographer Magazine, and Disney's Fairy Tale Weddings.
Also Good Magazine, Harvard Magazine, The Harvard Gazette, Austin Monthly Magazine, Lawn & Landscape Magazine, Style Me Pretty, Grace Ormonde Wedding Style, Lacrosse Magazine, SpaceNews, Richmond Magazine, and the Nikon International Calendar. I've even been interviewed on the TODAY show and for USA Today.

I'm also currently in the running to work for several made-up publications including Better with Bacon Magazine, Eating with Ewoks, Zombie Apocalypse Digest, and the Photographers-With-Super-Long-Bios Gazette.
Awards
In addition to my client accolades, since 2010 I've been recognized with 50+ awards from Wedding and Portrait Photographers International (WPPI) including four 1st place, three 2nd place, and three 3rd place trophies. I've also been awarded the title Double Master of WPPI.
To help put these awards in perspective, WPPI is the largest wedding and portrait photographer organization in the world and to many folks, these awards are the Oscars of the photography industry.
At the annual awards ceremony in Las Vegas, winners are called to the stage where they're presented with crystal trophies. Some winners are then encouraged to make a short speech where those photographers sometimes cry like babies. Not that I'd ever admit to crying on stage.
I've also received first place recognition by the Professional Photographers of America (PPA) and was a Grand Imaging Awards finalist.
Additionally, I've been recognized with the WeddingWire Couple's Choice Award for 2009, 2010, 2011, 2012, 2013, 2014, 2015, 2016, 2017, 2018 & 2019 and I've received the Best of the Knot Award for 2012, 2013, 2014, 2015, 2016, 2017 & 2018.
If you'd like to learn more and you enjoy wading through lengthy, bullet-pointed lists, check out some detailed information about my awards.
Celebrity Subjects
Over the years I've had the honor of photographing public figures like Arnold Schwarzenegger, Martin Sheen, Mark Wahlberg, Pierce Brosnan, Kristen Bell, Dax Shepard, Dennis Rodman, Craig Robinson, Jane Kaczmarek, David Caruso, Sean Hayes, Todd Bridges, Ted Lange, Orlando Jones, Marlee Matlin, Casper Van Dien, Denny Miller, Bruce Boxleitner, Vince Gilligan, Jon Polito, Karch Kiraly, Maria Sharapova, Kei Nishikori, Sloane Stephens, Omarosa Manigault-Stallworth, and Jonathan Lipnicki.
And Jonathan Togo, Eva La Rue, Bill Bellamy, Telma Hopkins, Josh Stewart, Tichina Arnold, Wayne Brady, Max Carver, Buzz Aldrin, Jane Goodall, Chitty Chitty Bang Bang, Representative Richard Neal, Senator Barbara Boxer, Clive Cussler, John Sandford, Vint Cerf, Eric Garcetti, and the crew who flew NASA's final space shuttle mission. I've also photographed scores of total strangers. I'd like to photograph you too.
As an aside, people sometimes remark that I look like a celebrity. When asked, I usually suggest that I look like Billy Bob Thornton in Sling Blade. Or if I'm feeling sexy, I'll suggest a chubby Billy Zane minus the sculpted eyebrows.
Some of my photographer friends think I look like David Cross, Michael Simon, or Rick Hoffman—but I think I'm better looking than those guys so I deny those resemblances.
Appearances
I love speaking at regional, national, and international photography conferences on the business of photography.
You might have seen me at WPPI, PhotoPlus, PPA's Imaging USA, National Association of Professional Child Photographers Retreat, Mystic Seminars, the I Am Photographer Festival in Tallinn, Estonia. I've also served as an instructor at the Tri-Community Photography School in Los Angeles.
You may have also seen me speak online via The Wedding School, Sue Bryce Education, and Jerry Ghionis Photography Training.
View all past and upcoming speaking appearances on my See Me Speak page.
Organizations
I'm a member of Nikon Professional Services (NPS) and Wedding and Portrait Photographers International (WPPI). I'm also a past member of the WPPI Wedding and Portrait Photography Conference + Expo Advisory Board.
I've also served as a five-time judge at the WPPI Annual 16x20 Print, Album, and Filmmaking Competition in Las Vegas.
Additionally, I've twice judged the National Association of Professional Child Photographers (NAPCP) International Image Competition. I've also judged prints at the I Am Photographer Festival in Tallinn, Estonia.
Perhaps equally important, in high school I was an active 4-H member and served as treasurer for the Electronics Club.
Licenses
I hold a Business Tax Permit issued by the City of Pasadena. I've also been issued a Seller's Permit by the California Department of Tax and Fee Administration.
History
My story as a professional photographer in Los Angeles began in early 2004.
As a dedicated nature photography enthusiast, I needed a tax write off for my expensive camera equipment.
With that goal in mind, I became a professional photographer and began seeking work as a wedding photographer and portrait photographer.
Farmer to Technocrat
My first real-world employment began on a farm in Louisiana. In my later teenage years, I held a wide range of jobs including busboy, pizza maker, grocery store clerk, and Subway® sandwich artist.
I've also been a technical writer, community college instructor, and I invented the world's first web-based grade book for K12 school districts.
Entrepreneur
During the dot com boom, I co-founded Golfballs.com. For that reason, I'm a fervent mulligan supporter.
Today, in addition to my work at Rob Greer Photography, I'm also the Founder of Good Gallery. We provide better websites for photographers.
Veteran
As a Marine Corps veteran, I still enjoy making fun of people in the Navy.
My ribbons and medals include the Combat Action Ribbon, Joint Meritorious Unit Award, Navy Unit Commendation, Meritorious Unit Commendation Ribbon (1 star), Selected Marine Corps Reserve Medal, and the National Defense Service Medal.
Also, the Southwest Asia Service Medal (3 stars), Humanitarian Service Medal, Sea Service Deployment Ribbon, Saudi Arabia's Liberation of Kuwait Medal, and the Kuwait Liberation of Kuwait Medal.
Education
I earned a master's degree in English from Northwestern State University. I began Ph.D. work, but I didn't complete those studies. But don't let my academic background worry you; I'll never correct your grammar. Unless you hire me to correct your grammar.
Qualities
My friends think of me as honest, sharp, witty, friendly, dedicated, tenacious, responsible, intelligent, loyal, and driven while my sister sees me as a goober.
How to Hire Me
I love telling stories through my photography and I hope that my next story is yours. If you're still reading this incredibly long biography, I think that you're absolutely amazing. In fact, please contact me now for your special prize!