Photographer Stories
People sometimes ask me for interesting stories about my life as a photographer. Here are a few favorites.
BARTLET for President
Martin Sheen is my favorite actor. I love his films. And West Wing is my favorite TV series. When the show originally aired, I never missed an episode. Since then, I've binge-watched the series six times. So, you probably won't find it surprising that I was incredibly distracted when Martin Sheen unexpectedly appeared at an event I was working.
In 2013 I photographed a wedding at La Venta Inn in Palos Verdes Estates, California. The bride's last name was Estévez. I never imagined she was related to Sheen (who was born Ramón Gerardo Antonio Estévez). And she never told me.
When I was photographing the groom getting ready, the father of the bride arrived and I remarked, "You look like Martin Sheen." Everybody laughed. I didn't understand why.
Later, I was photographing the bride and bridesmaids in the venue parking lot (there aren't many locations to photograph large groups at the venue). The ceremony start time was near and guests started to arrive. When I looked down at one of the passing cars, I saw Martin Sheen staring at me through the passenger window.
I LOST MY MIND.
I looked up at the bride and she laughed saying, "He's my uncle." I kept working, but my mind was whirling. I had met and photographed many celebrities, but I'd always been mentally prepared. And none of those other celebrities were my favorite actor nor were they a client's immediate family member.
But being a consummate professional (at least in my mind), I pulled myself together and continued photographing the wedding. I didn't point my camera at Martin Sheen more frequently than I pointed my camera at other guests, nor did I outwardly let on that it was a big deal to see him there. And I didn't chat him up or ask for a selfie.
After the ceremony, it was time for family photos, At the end of the family photo list was a group that included 19 people. My second photographer called the names and the family members gathered in front of the gazebo. The name "Martin" was on that list.
To help set the scene, imagine a family portrait location with a slightly uncomfortable incline, a relatively narrow path to a gazebo, and people in a huge group spilling out on both sides of the path. It wasn't an ideal location for a large portrait.
I paused for fewer than 5 seconds considering the scene and how I might best pose the group. During that brief delay, Martin Sheen stepped forward, grabbed a few nearby chairs, and said, "I can help." And then he started arranging people. I stood there speechless.
At any other wedding, I would have quickly said, "Thanks so much, but I've got this." But Martin Sheen was the President of the United States. How could I tell him no? So, I didn't. And he did a good job organizing the group. So, I took the photo and that was that.
Later, as the cocktail hour started winding down, I saw Sheen standing alone in a corner. Moments later my second photographer Vanessa Stump starting walking towards him. I tried to wave her off, but she ignored me.
Vanessa spoke to Sheen for a few seconds and then he walked towards me from across the room. He said, "I understand you're a fan." And then more words were exchanged. He suggested we take a photo together.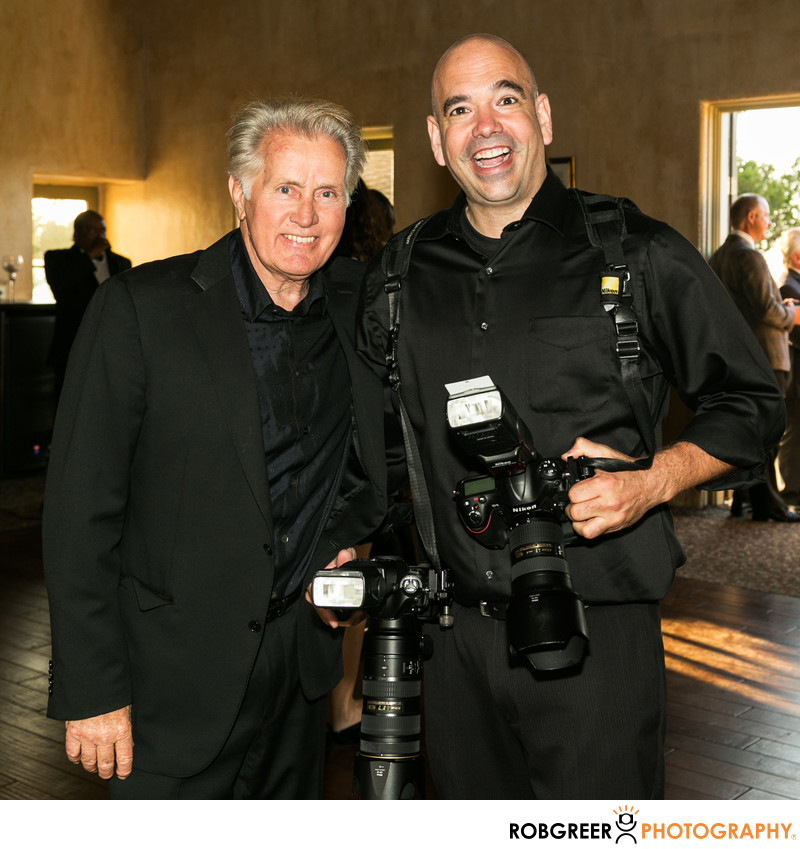 Then he stuck around and asked about my Nikons. I handed him one. He pointed the camera at me and pretended to take a photo. Another guest made rabbit ears over my head. I have a photo recording that moment too.
I remember being uncomfortable meeting him because I felt it was unprofessional to engage a guest personally when I was working. But in hindsight, I'm so glad Vanessa made it happen and took a few photos commemorating the moment.
What's next?