Clive Cussler Portraits: Official Photographer Rob Greer
Clive Cussler authored and co-authored 80+ international bestsellers. He died in 2020 at 88.
I've been Clive's photographer and his fan for 35+ years.
It has been my privilege and honor to photograph Cussler and his family for decades. It's no exaggeration to mention that millions of his printed novels feature my photographs.
Two of his novels were adapted for the big screen—most notably Sahara starring Matthew McConaughey, Steve Zahn, and Penélope Cruz.
The Beginning
When I was shopping for used books in 1983, the cover art on a worn paperback titled Vixen 03 grabbed my attention. When I bought that book, I never could have guessed that twenty years later I would become Clive Cussler's official photographer.
Collecting Clive
I'm a book collector with a library of 3000+ first editions—many of them signed.
Years ago, in addition to collecting Clive Cussler's first editions, I also sought other printings. Those variants included UK editions, book club editions, large print editions, collector's editions, and foreign language editions.
I prefer owning signed books. But I couldn't ask Clive to sign every edition in my collection. If I did, I'd need his signature on hundreds of books.
But then I had a crazy idea.
NUMA Webmaster
NUMA is a fictional government agency featured in many Cussler novels. It's also a real-life non-profit organization founded by Cussler credited with discovering more than 60 shipwrecks around the world.
The real-life NUMA organization had a website. And as a dotcom veteran, I knew how to build websites. I came up with the insane idea that if I offered a NUMA website redesign, I'd be in a great position to ask Cussler to sign my books.
After dozens of e-mails and phone calls with Clive's public relations agency, I was accepted as the new NUMA webmaster. I loved the idea of promoting shipwreck conservation. And I loved doing website work for my favorite author. I served as the NUMA webmaster until 2017.
The Signatures
After I redesigned the NUMA website, I joined Cussler on his next book tour. Putnam arranged for an exclusive Amtrak-based signing as Cussler traveled from Houston to San Francisco.
I boarded the train with two huge suitcases—both heavy with books. Other collectors brought similar quantities. Cussler generously agreed to sign everything for every collector. Ironically, I then realized that Clive would have signed all my books even if I hadn't worked on the NUMA website.
2004 Portraits
I first visited Clive's Scottsdale, Arizona home in 2004. I was a newly minted professional photographer and I hoped to create a nice portrait for the NUMA website. But I was nervous, inexperienced, and I didn't know how to light or direct a book-world celebrity whom I admired. My photography that day was disappointing.
2006 Portraits
In 2006, I returned as a better photographer. On this visit I brought several Profoto studio lights, a 10' wide black-cloth background, and an assistant named Morgan Yeates—also a Cussler fan.
This my most personally embarrassing story as professional photographer.
Without enough room for studio lights and a large background inside, we created an impromptu outdoor studio on Clive's back patio. The one thing I didn't consider was that wind can be an issue for outdoor photography—especially when you're not using sandbags.
Naturally, almost as soon as we began the photography a gust of wind blew the cloth background down, covering Clive completely. After we pulled the background off, Clive was unfazed and laughed at the mishap. I was incredibly grateful for his graciousness. But my embarrassment and horror were deeply real.
One portrait from this session appeared on seven G.P. Putnam's Sons titles including:
The Chase
Plague Ship
Corsair
Medusa
Spartan Gold
The Adventures of Hotsy Totsy
The Wrecker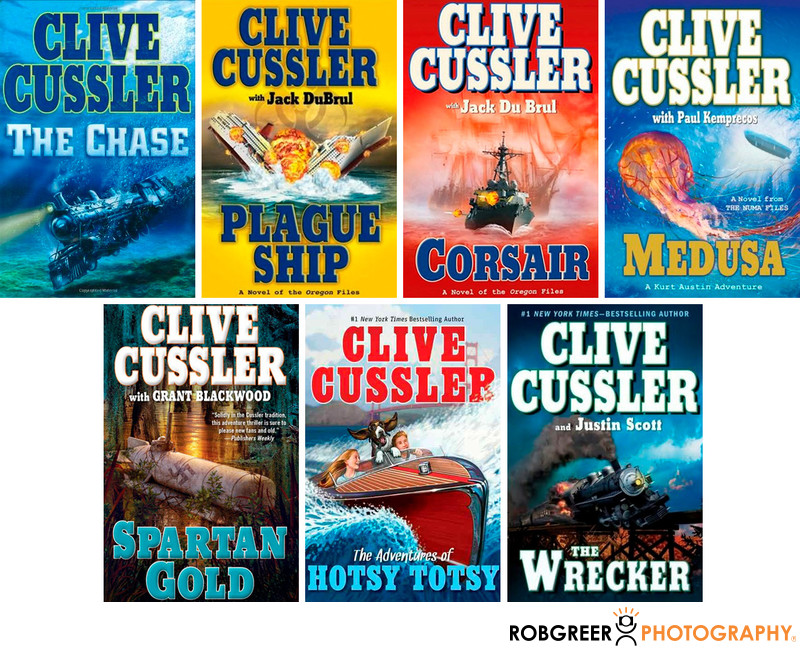 2008 Portraits
I photographed Clive and Dirk Cussler at Wilshire Beverly Hills Hotel before their signing at The Mystery Bookstore in November 2008. They were there promoting their latest Dirk Pitt novel, Arctic Drift.
These publicity photos were never used.
2009 Portraits
My third visit to Cussler's Arizona home was in 2009. On that trip I created a natural light portrait that later appeared on nine G.P. Putnam's Sons titles including:
The Silent Sea
The Spy
Lost Empire
Devil's Gate
The Jungle
The Race
The Kingdom
The Storm
The Thief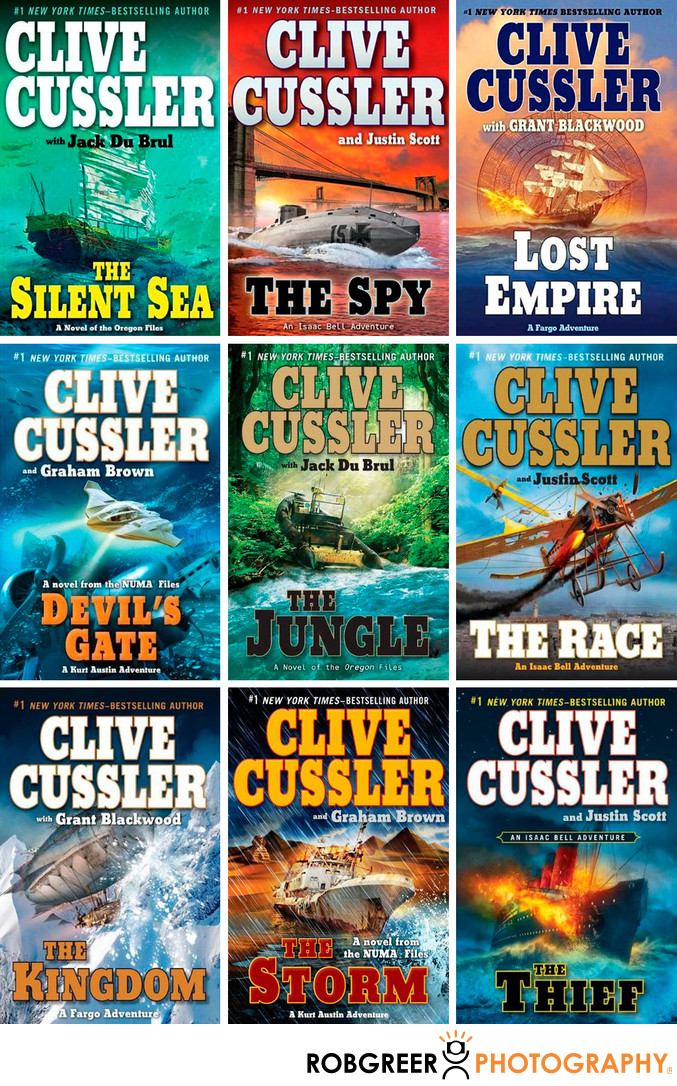 2012 Portraits
My early Cussler portraits only appeared on co-authored series titles from The NUMA Files, The Oregon Files, Isaac Bell Adventures, and Fargo Adventures. Those portraits never appeared on Dirk Pitt® series novels. As Dirk Pitt is Cussler's best known, most-beloved character, that's an important distinction.
Except for a few early titles, every Dirk Pitt novel features a photo of Cussler alongside an automobile from his personal classic car collection. Each car also has a starring role in the book. The best photographs were by Paul Peregrine.
I couldn't have been more thrilled when Dirk Cussler called and asked me to fly to Colorado so I could create the dust jacket photograph for Clive Cussler's and Dirk Cussler's novel, Poseidon's Arrow.
This photograph was created when I was raised high above the car on a battery-operated scissor lift.
After creating the dust jacket photograph, I also photographed headshots for Clive, Dirk, and the entire Cussler Museum staff.
2018 Portraits
I was again asked to visit Denver so I could photograph Clive Cussler's and Dirk Cussler's for their latest Dirk Pitt adventure, Celtic Empire.
I created this dust jacket cover photograph standing on a ladder precariously positioned in the bed of a lifted pickup truck owned by Clive's grandson.
Unlike my previous visit, the grass was no longer green. It was winter and the grass was dead, brown, and patchy. However, taking inspiration from older Cussler jacket photos, I contacted my favorite retoucher and we used the magic of Adobe Photoshop to add our own snow.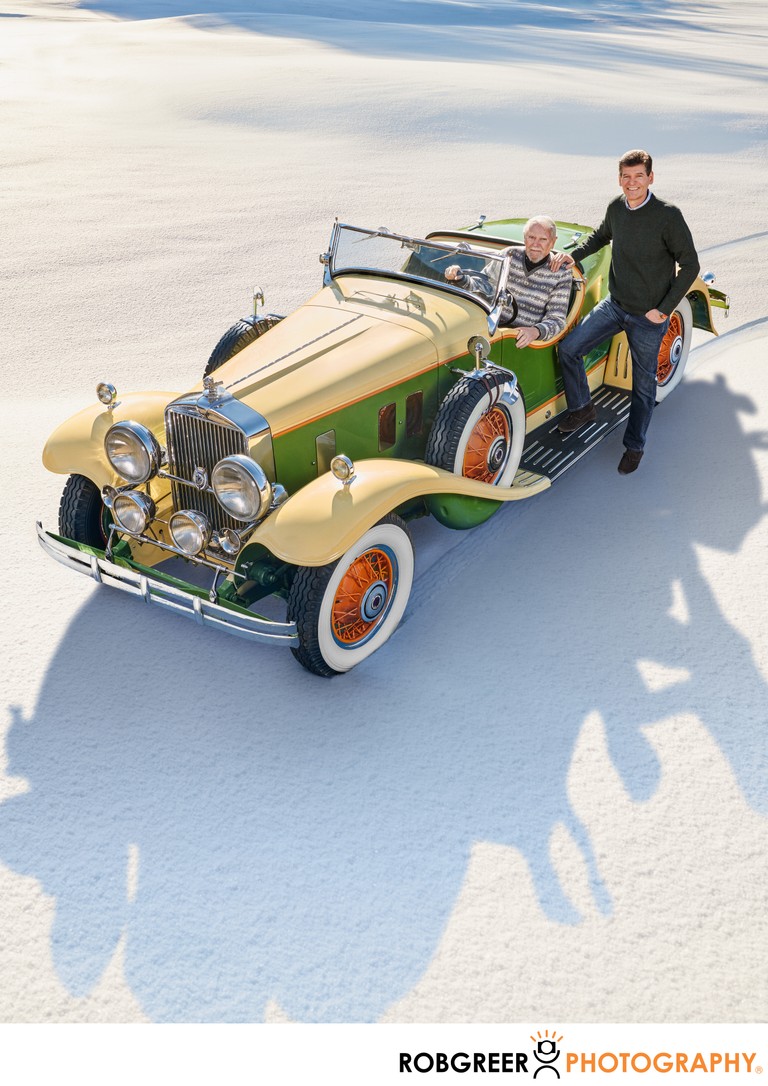 After we created the cover photo, I photographed the Cussler family around the Cussler Car Museum and created a few natural light headshots for Clive and Dirk.
Favorite Story
In 2008, I was holding a party at my photography studio, then located in downtown Los Angeles. I had invited Clive's daughter Dayna to the party. She was having trouble locating my studio and suggested that I meet her outside. Imagine my surprise when she arrived and her passenger was Clive Cussler!
I invited them inside and I promptly forgot my other guests. I showed him around our 4000 square foot studio. During that tour Clive said, "This looks just like Dirk Pitt's hangar." That was one of the greatest and most thrilling complements that I've ever received. I still get tingly inside when I think about that day.
Final Thoughts
Photographing Clive Cussler and Dirk Cussler has been a huge honor. And to have my photographs appear on millions of books around the world has been an amazing experience. But to have my name forever associated with Cussler novels, even in this small way, is a dream come true. I'm truly grateful and humbled.
I love you Clive. You'll be missed.
Usage Requests
If you'd like to use my Cussler photographs for editorial or commercial purposes, please contact me for further information. I'd love to hear from you.
Using these copyrighted photos without my written permission is strictly prohibited.
Bibliography: By Publication Date
After authoring 18 books on his own, in 1999 Cussler began a co-writing career with other authors including Dirk Cussler (his son), Grant Blackwood, Russell Blake, Graham Brown, Jack Du Brul, Robin Burcell, Craig Dirgo, Paul Kemprecos, Boyd Morrison, Thomas Perry, and Justin Scott.
Cussler's novels and non-fiction works include:
The Mediterranean Caper (1973 Dirk Pitt)
Iceberg (1975 Dirk Pitt)
Raise the Titanic! (1976 Dirk Pitt)
Vixen 03 (1978 Dirk Pitt)
Night Probe! (1981 Dirk Pitt)
Pacific Vortex! (1983 Dirk Pitt)
Deep Six (1984 Dirk Pitt)
Cyclops (1986 Dirk Pitt)
Treasure (1988 Dirk Pitt)
Dragon (1990 Dirk Pitt)
Sahara (1992 Dirk Pitt)
Inca Gold (1994 Dirk Pitt)
Shock Wave (1996 Dirk Pitt)
The Sea Hunters (1996 Non-Fiction)
Flood Tide (1997 Dirk Pitt)
Clive Cussler and Dirk Pitt Revealed (1998 Non-Fiction)
Atlantis Found (1999 Dirk Pitt)
Serpent (1999 NUMA Files)
Blue Gold (2000 NUMA Files)
Valhalla Rising (2001 Dirk Pitt)
Fire Ice (2002 NUMA Files)
The Sea Hunters II (2002 Non-Fiction)
Trojan Odyssey (2003 Dirk Pitt)
White Death (2003 NUMA Files)
Golden Buddha (2003 Oregon Files)
Black Wind (2004 Dirk Pitt)
Lost City (2004 NUMA Files)
Sacred Stone (2004 Oregon Files)
Polar Shift (2005 NUMA Files)
Dark Watch (2005 Oregon Files)
Treasure of Khan (2006 Dirk Pitt)
Skeleton Coast (2006 Oregon Files)
The Adventures of Vin Fiz (2006 Children's Book) ‡
The Navigator (2007 NUMA Files)
The Chase (2007 Isaac Bell)*
Arctic Drift (2008 Dirk Pitt)
Plague Ship (2008 Oregon Files)*
Medusa (2009 NUMA Files)*
Corsair (2009 Oregon Files)*
The Wrecker (2009 Isaac Bell)*
Spartan Gold (2009 Fargo Adventures)*
Crescent Dawn (2010 Dirk Pitt)
The Silent Sea (2010 Oregon Files)*
The Spy (2010 Isaac Bell)*
Lost Empire (2010 Fargo Adventures)*
The Adventures of Hotsy Totsy (2010 Children's Book)*
Devil's Gate (2011 NUMA Files)*
The Jungle (2011 Oregon Files)*
The Race (2011 Isaac Bell)*
The Kingdom (2011 Fargo Adventures)*
Built for Adventure (2011 Non-Fiction)
Poseidon's Arrow (2012 Dirk Pitt)*
The Storm (2012 NUMA Files)*
The Thief (2012 Isaac Bell)*
The Tombs (2012 Fargo Adventures)
Zero Hour (2013 NUMA Files)
Mirage (2013 Oregon Files)
The Striker (2013 Isaac Bell)
The Mayan Secrets (2013 Fargo Adventures)
Havana Storm (2014 Dirk Pitt)
Ghost Ship (2014 NUMA Files)
The Bootlegger (2014 Isaac Bell)
The Eye of Heaven (2014 Fargo Adventures)
Piranha (2015 Oregon Files)
The Assassin (2015 Isaac Bell)
The Pharaoh's Secret (2015 NUMA Files)
The Solomon Curse (2015 Fargo Adventures)
Odessa Sea (2016 Dirk Pitt)
The Emperor's Revenge (2016 Oregon Files)
The Gangster (2016 Isaac Bell)
Pirate (2016 Fargo Adventures)
Built to Thrill (2016 Non-Fiction)
Nighthawk (2017 NUMA Files)
Typhoon Fury (2017 Oregon Files)
The Cutthroat (2017 Isaac Bell)
The Romanov Ransom (2017 Fargo Adventures)
The Rising Sea (2018 NUMA Files)
The Gray Ghost (2018 Fargo Adventures)
Sea of Greed (2018 NUMA Files)
Shadow Tyrants (2018 Oregon Files)
Celtic Empire (2019 Dirk Pitt)*
The Oracle (2019 Fargo Adventures)
* book titles featuring author photographs by Rob Greer
‡ author photograph misattributed to Robert Greer