Props & Pets
Props and pets are a great way to enhance your portrait session or engagement session. Get creative!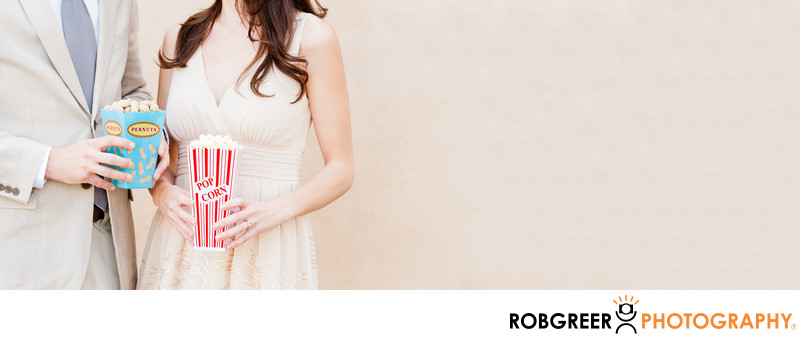 If you're the kind of person who would like to enhance your portrait session or engagement session with props or pets, then I'm the photographer for you. Just make sure you pay close attention to these recommendations so that you can have the best experience possible.
Items of Interest
I'm always willing to incorporate props into a portrait session or an engagement session. I typically recommend props that have some special meaning or significance to the subjects.
For example, if I'm photographing an engagement session and the bride is a fashion maven and the groom a cigar smoker, then a copy of Vogue magazine and Cigar Aficionado magazine would be great props.
Likewise, if the bride is a tennis player and the groom is a baseball player, a tennis racket and baseball glove might be considered. Please note that not all engagement session locations are conducive to props—and some locations may not allow them at all.
Your prop choices are limited only by your imagination and any location restrictions.
Some trendy props may have seen their better days. Examples of overused props include balloons, vintage luggage, vintage cameras, scrabble pieces, fruit, picnic baskets, period clothing, mustaches, picture frames, and ampersand signs.
I typically photograph you with your props during the first 15 minutes of the session. After photography with the props is complete, we won't need the props any longer so it's best if we have a way to put them away or hand them off to someone so that we can move quickly through the rest of the session.
Please run your proposed prop list by me first as I can often offer unique insight that will perhaps save you time in your preparations. In some cases, the props you may be considering may be problematic due to the location you selected. For example, I had to tell one subject that they couldn't use fake snow as it would be considered litter at the location they had selected.
All of your props should be easily carried in your hands or in a single small bag.
Some locations don't allow props. Please refer to my comprehensive location details for more information.
Your Animals Are Family
If you have pets and you'd like to include them in your portrait session or engagement session, that's a fine idea. I fully realize that pets are an important part of your family.
However, you'll want to be aware that including pets can complicate your session due to the additional logistics involved and the uncertainty of working with animals.
Since having your pet around for the entirety of your session isn't typically recommended (unless we're doing a session dedicated to your pets), we'll complete all of the photography with your animal during the first 30 minutes of your session.
Afterwards, you'll need to arrange for an accompanying animal wrangler. That person should be someone who is comfortable and capable of assuming all pet-sitting activities for the remainder of your session—preferably far away from where we're shooting so as to reduce distractions.
You'll also need to research local ordinances to ensure that pets are allowed in the locations you've selected.