Working with Florists
Your personal flowers, including both bouquets and boutonnieres, are an integral part of your personal decoration and are thus are a big part of wedding day photography.
It's therefore very important that the personal flowers are available when we need them. Unfortunately, florists sometimes arrive with the personal flowers later than expected. Therefore, to help ensure that the flowers arrive on time, I strongly recommend that you ask your florist to deliver the personal flowers sixty to ninety minutes before I'm scheduled to arrive for your Getting Ready location. Even if you have a great florist, and even if you're convinced that this won't be an issue at your wedding, taking this extra precaution regarding flower delivery is one of the most important things you can do to ensure that we're able to stay on schedule during the early parts of your wedding day.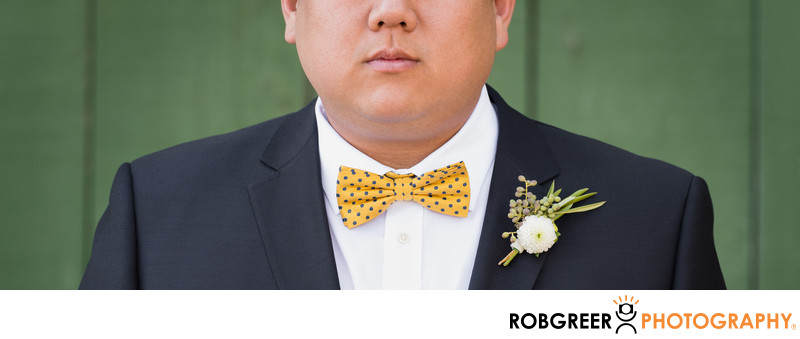 In regards to flower choice, if you're planning a summer wedding, please try to select flowers that can handle high heat for extended periods of time. Although some flowers are incredibly beautiful when they are fresh, they can quickly wilt and brown in high heat. At one wedding I photographed, it was so hot that the florist refused to let the bride have her bouquet outside because she was afraid of it wilting too quickly. As you might imagine, this impacted my photography. Your florist can best advise you in this regard. So, if the florist cautions you that your flower selection could be an issue at your wedding, I recommend that you heed their warning. They are likely experts in matters of flower longevity. Succulents are always a great choice; if you've seen my front yard you know why I'm offering this tongue-in-cheek suggestion.
Although it rarely happens, boutonnieres sometimes break. I recommend that you ask the florist to provide a backup boutonniere for the groom and one backup boutonniere for the groomsmen(one for the group, not one for each groomsman). It's also important to ensure that the boutonnieres aren't overly large. Please ensure that the boutonnieres are small and unobtrusive before the wedding. A boutonniere featuring a large flower or arrangement can prove very distracting in photographs. It's also downright uncomfortable to wear them.
Finally, although it's certainly rare, I've twice encountered florists who provided magnetically held boutonnieres. Let me start by saying that the florist who invented the magnetically held boutonniere should be tied to a stake a whipped repeatedly with a piece of scratchy wool yarn. In the few times I've seen magnets used, the concept proved to be a very bad idea. They boutonniere frequently falls off the lapel. Or, even more likely, the boutonniere is crooked on the lapel. And because it's not perfect, I spend far too much time trying to correct issues with the boutonniere rather than spending my time taking photographs. Taking that a step further, during the wedding ceremony, when I can't do anything about wardrobe or flower issues, the boutonniere is invariably crooked and the photos will suffer. Straight pins are the best way to attach a boutonniere—period.
Copyright © 2017. Duplication of this actively monitored content is strictly prohibited and aggressively pursued. Los Angeles Photographer Rob Greer, 1439 Las Lunas St, Pasadena, CA 91106 - (626) 523-3123 - info@robgreer.com - Privacy