Planning Your Wedding Ceremony
We create spectacular photos during your ceremony while remaining inconspicuous and respectful.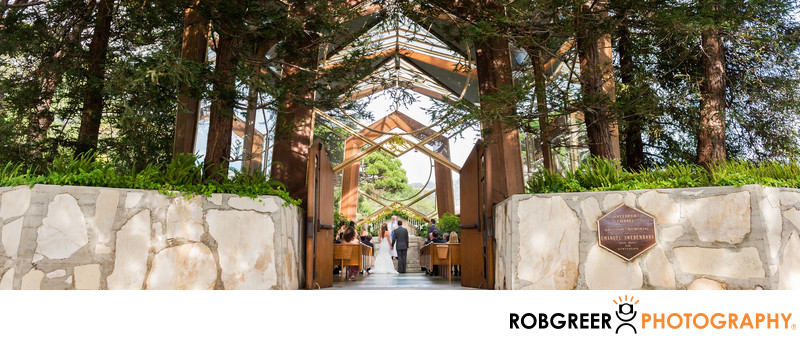 I believe that it's critically important that we don't distract you, your family, or your friends during the most significant part of your wedding day. With that in mind, we always follow the simple rule of never positioning ourselves between a wedding guest and the couple.
And by using telephoto lenses and working from the back and periphery of the ceremony, we can capture amazing storytelling images without becoming part of the ceremony.
How It's Done
During the processional, I'll be at the front of the aisle to capture the best photos as you walk down the aisle.
After the processional, I'll move to the sides and rear of the congregation and continue ceremony coverage from those locations. During the most important ceremony moments like the ring exchange or the kiss, I may step down the aisle to within 50 feet of the altar, but I avoid it whenever possible.
I'll also avoid getting close to the altar except in situations where my view is completely blocked. That can sometimes happen when the celebrants gather around to pray or light candles. In those cases I may move closer in the hopes of obtaining an unobstructed view.
At the conclusion of the ceremony, after the kiss and during the recessional, I'll be positioned at the back of the aisle and photograph you both as you recess out of the ceremony location.
UNPLUGGED WEDDING
The use of smartphone cameras during ceremonies isn't just common—it has become ubiquitous at every wedding ceremony I photograph. And although it's certainly understandable that your friends and relatives want to capture a blurry, underexposed photograph of you walking down the aisle, those guests really aren't fully present in at your wedding.
Instead of watching you, your fiancé, and your wedding party, they're watching the action through their phone displays or worse yet, checking the photos they just captured on the backs of their devices as important events are still happening.
In addition to the fact that those guests not fully invested in your ceremony, as I photograph your processional, recessional, and even your first kiss, some of your more aggressive iphoneographers, ipadographers, or aspiring amateur photographers may step into the aisle at the most inopportune time and thus negatively impact or sometimes even ruin the important photographs you've hired me to capture.
Therefore, consider doing what many other couples are now doing and making your wedding ceremony an unplugged affair. In other words, you might suggest to your guests, through both the Officiant and your wedding program, that they should turn off their phones and cameras during your ceremony.
Here's an example of some text that you might want to include in your program: "Welcome to our unplugged wedding ceremony! We'd like you to be fully present for our ceremony and therefore ask that you turn off all mobile phones, tablets, and cameras and celebrate this moment with us."
You can reinforce that idea by having the Officiant announce something like, "[YOUR NAMES] would like you to turn off all mobile phones, tablets, and cameras and be fully present during this ceremony. But don't worry, there are professional photographers here who will be capturing everything and you'll be able to see those photos online after the ceremony."
Avoid Empty Seats
When you're arranging for ceremony seating, avoid including more seating than you need. In other words, if you have 100 guests and 125 seats, you may have large gaps in your audience. And its very difficult to hide gaps when I'm photographing the entire ceremony area.
Front Row Phobia
Wedding guests will sometimes avoid the front rows in the ceremony venue. This strange behavior can lead to gaps in seating around your family members. To help prevent those gas, consider using pretty placards to identify each seat reserved for family members (with names).
Then ask your ushers to seat your guests from the front of your ceremony venue to the back. Although there might be some resistance to this plan, instruct your ushers to say, "[YOUR NAMES] have asked guests to fill the front seats first. Would you mind taking a seat at the front?"
This specific phrasing is important. When someone involved with a wedding includes the phrase "[YOUR NAMES] have asked ..." when speaking to a guest, very few people can resist any request that follows.
Ceremony Seats
Make sure you personally view and approve the guest chairs for your ceremony. I've been to some unfortunate wedding venues where the ceremony chairs were uncovered and unattractive banquet chairs. Avoid ugly chairs!
Seating Woes
You may consider asking your ushers to seat guests wearing bright colors or strong patterns on inner seats.
If those guests are seated on the aisle, they'll be visible in many of your most important wedding photographs. Although I avoid photographing distracting elements during your processional and recessional, it's sometimes unavoidable. .
This advice seems petty, but dozens of couples I've photographed have expressed disappointment about how a guest's appearance "ruined" their processional or recessional photos.
Aisle Width
If you can control the width of your aisle, try to ensure sure it's 8'+ wide. That's a comfortable width that serves you well on several fronts.
First, that width helps prevent any guests leaning into the aisle with camera phones from blocking my view during your processional or recessional. That width can also accommodate three people walking side by side—which can be important for a processional when two people are being escorted up or down the aisle.
Aisle Runners
If you're using an aisle runner, your runner selection is very important. Not only does the runner serve as a foreground element in many of your ceremony photographs, it's also central to the ceremony décor.
If you want an aisle runner, make sure you see it prior to the ceremony. You should ensure that the runner is thick enough to bunch when it's laid out—particularly if your ceremony is over uneven or soft ground.
If you're using the runner at an indoor location, consider purchasing double sided carpet tape that you can apply to the bottom of the runner. Also make sure that the front AND back of the aisle are roped off. Otherwise people will walk down the aisle and dirty or damage your runner prior to the processional.
And finally, don't use an aisle runner over grass. When a runner is laid out over grass, it's a mess after the first person walks to the end of it.
Even with this advice, I think that runners are rarely necessary and typically add little to ceremony décor; in fact, in my experience a runner is more likely to detract rather than add to the visuals related to your ceremony.
As a great alternative, I recommend the use of flower petals bordering the left and right side of the aisle. If you choose that option, make sure you purchase enough to provide good coverage down both sides.
And unless the aisle is grass, you'll want to avoid sprinkling the flowers in the middle of your aisle. Flower petals can be quite slippery when you're walking on a hard surface with leather bottom shoes and nobody wants a nasty slip on your wedding day.
Selecting Officiants
If you're hiring a professional Officiant, remember that he or she will be prominently featured in almost every ceremony photograph. One helpful tip is you should inquire as to what they plan to wear to officiate your ceremony. I would recommend that that you ask them to avoid white garments or vestments, bright or light colors, or busy patterns.
You might also want to ask the officiant how he or she plans to hold the notes or text related to the ceremony. In some weddings I've photographed, I've seen an Officiant use loose papers, over-sized binders, colorful books, and even plain manila folders.
Since those items are all visually distracting, I recommend that you ask the Officiant to use a unobtrusive black book or non-decorated binder to hold their ceremony notes. I personally don't recommend the use of electronic devices (like an iPad).
First, an electronic device can fail whereas printed paper provides an Officiant with a safer alternative. Second, most devices emit unwanted light that might fall on the Officiant's face and greatly detract from the ceremony photos.
Musicians
If you're hiring musicians for the ceremony, please ask about their music stands. In some cases, musician music stands are unattractive and can detract from your ceremony decor.
If you are hiring multiple musicians, it's always best to ensure that every musician is using the same stand. Also, you should ask your musicians to remove any instrument cases and bags and hide them from the view of your guests.
Microphones & Speakers
The equipment used by your audio technician or DJ can greatly impact the beauty of your ceremony. To put it bluntly, microphones and microphone stands can be a distracting addition to your ceremony photographs.
Ask the individuals handling your ceremony audio if they provide wireless microphones or lapel microphones. Under no circumstances should you approve of an audio vendor who is unable to provide you with a wireless microphone setup.
You'll also want to ask that your audio technician have backup microphones immediately available. I've lost count of the number of weddings where a microphone failed mid-ceremony. In addition to microphone considerations, you should also request specific speaker placement.
I strongly recommend asking the audio folks to make sure that the speakers are placed well outside the left and right boundaries of your congregation and wedding party. In other words, in an ideal world, I should be able to frame a photograph of the altar and your entire congregation and not see a speaker in the frame.
If there are speakers present at the front of your ceremony venue, then they will appear in your photos. In some cases, they might even appear to be growing out of the tops wedding party or guest's heads.
Some alternatives include placing the speakers to the far left or right side of the ceremony area, to the far rear of the ceremony area, or using considerable amount of speaker cable to position the speakers to the far left and right side of the front ceremony area.
Lighting
If you're having an indoor ceremony, unless you have spotlights and other professional lighting installed, please consider leaving the room lights set as high as is possible while still maintaining decorum.
Although lowering lights may create an intimate mood, semi-darkness can make it extremely difficult for photographers to capture the celebrants without the use of flash photography. If you're having an outdoor ceremony at night, you'll likely need lots of professional lighting—including spotlights.
Delayed Start Times
Avoid setting your ceremony start time more than 15 minutes after your invitation start time. Some wedding planners might suggest this practice but it's almost invariably a poor idea.
Unless your wedding ceremony is being held in an incredibly out-of-the-way location where there's a high probability of guests becoming lost or having some kind of unexpected delays moving from their parking area to your ceremony location, there are few excuses that justify a late ceremony start time.
If you feel that your friends or family are habitually late, call or email each one of them and emphasize specifically how important it is that they arrive on time. That is usually more than enough to encourage your family members and friends to arrive on time.
Finally before your wedding, make a plan regarding your absolute "must-start" time. There are occasions when certain guests and important family members might be late to the start of your event.
In the past I've seen couples mired in indecision as to whether or not they should start the ceremony because someone was missing. Therefore, consider worst-case scenarios before your wedding day so that you can settle on your plan long before your ceremony date.
Groom's Processional
I've witnessed some weddings where the groom and groomsmen stealthily enter the ceremony area from the side aisle, often with the Officiant leading the way. When the groom and groomsmen enter from the side, I think that's a lost opportunity to honor the groom and groomsmen.
Wedding guests are focused on the aisle and thus I think it's only appropriate that the Officiant, groom, and groomsmen also enter the ceremony area via that prominent location.
To help put this in perspective, I've never captured a satisfying photograph of a groom's entrance from the side; however, when a groom enters via the aisle, I'm typically able to capture some really amazing photographs.
Processional Speed
During the ceremony, during both the processional and recessional, the wedding party, guests, and escorts should be encouraged to walk slowly. Try to remember to remind your wedding party and family about this consideration several times before the wedding—particularly during the rehearsal.
Ring Exchange
During the ring exchange, take care to avoid hiding each other's hands. Your guests want to see those rings exchanged so don't hide those hands!
Recessional Kiss
If you're feeling ambitious, it's often a great idea to stop and kiss half way down the aisle or perform a dip if you have it in you. Your guests will love it and it will make for an amazing photo! Just make sure you tell me that you're on doing that before the ceremony!
Recessional Favors
Consider providing bubble bottles or flower petals for your recessional. If you ask your guests to blow bubbles or throw petals during your recessional, you'll likely see some really great photos.
It's an excellent idea to put a note on each aisle seat to remind the guest sitting in that seat to blow the bubbles or throw the petals during the recessional. Many times, without that reminder and with the excitement of the recessional, guests won't remember the bubbles or petals.
If you really want to help make it happen, you can ask the Officiant to remind the crowd about those celebratory items immediately after he introduces you for the first time as husband and wife and just prior to your recessional.
Greeting Guests
After the ceremony, as long as the couple is visible, guests tend to stay on hand with an idea to offer their congratulations. However, it's important to quickly clear the ceremony location so that Family Portraits can commence. I know that you'll be tempted to greet your guests immediately after the ceremony, but it's best to reserve that reunion for your cocktail hour or reception.
Rain Plan
Even though we live in Southern California, you should consider creating an alternate plan in case it rains. Although I'm not afraid of getting a little bit wet, you'll want to stay dry. Therefore, you'll want to consider alternate locations and the best place to quickly purchase lots of matching umbrellas.
Makeup Remover
In Hindu ceremonies, a bindi is a bright red forehead decoration applied by parents and the ceremony Officiant, traditionally known as a Pandit or Pundit. Similarly, a sindoor is a red orange-red dye applied by at the parting of the hair. If you'd like to remove those dyes after the ceremony, then you'll want to have an excellent oil-based makeup remover on hand.
No Obligation to Invite People You Hate
If there's someone you don't love, don't invite them to your wedding. It's a big buzz kill when you see those folks on your wedding day and I've seen it dramatically affect the mood of past clients.
It's your day. And so I'd suggest that you invite who you want to be there and not the people who you think should be there due to some sense of family or personal obligation.