Hiring Family Friends
If you're thinking about hiring a family friend to photograph your wedding, that might not be your best choice.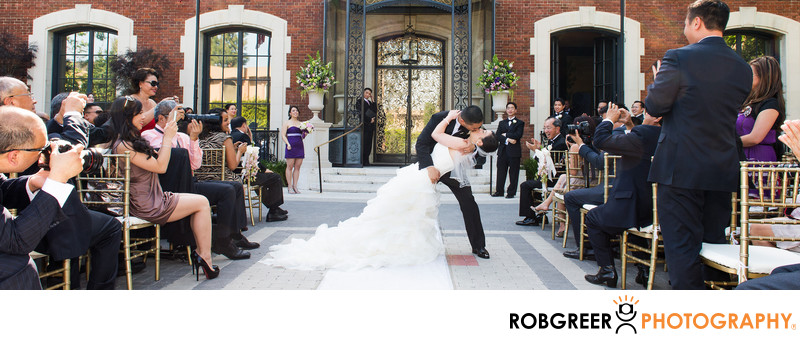 I correspond with hundreds of Los Angeles area wedding photography clients every year. And over the course of that year, someone may share that they didn't select me as their wedding photographer because a family friend, amateur photographer, or photography school student offered to photograph their wedding.
Although I can only speculate that budget or family politics is involved in that decision, I'm going to be bold and mention that hiring one of those folks to photograph a wedding would ever be a good choice.
Experience
I photograph an average of 30 weddings every year. And, over the course of my career, I've photographed hundreds of weddings. This means that I've worked in hundreds of different locations, in challenging lighting situations, under all kinds of weather conditions, and all the while living and working through countless wedding day "emergencies."
Although a family friend may be quite good at holiday photos or family photographs, can they cope with a wide range of highly stressful, rapidly changing situations and still capture amazing photographs of the hundreds of special moments that will happen on your wedding day?
Skill
I'm an experienced camera operator. Over the course of a single year, I'll take over 100,000 photographs. And, on a typical wedding day, I'm changing equipment settings constantly.
After my many years as a professional wedding photographer, my cameras and lighting equipment have become extensions of my body. I no longer consciously think about camera adjustments or lighting situations. I simply view a scene and adjust my equipment automatically.
And because of that skill, I'm able to capture rapidly evolving wedding moments as they happen. Without those skills, important wedding moments can be missed—moments that can't be recreated. You only get one chance at weddings.
Equipment
I invest heavily in equipment. For example, my primary wedding photography equipment includes two camera bodies on my person, two professional lenses, and two flashes. And in addition to my primary equipment, I also have a backup camera (D800), four backup lenses, three backup flashes, and a host of other lighting gear.
To put this in perspective, at a typical wedding I arrive with over $25,000 in camera equipment with about $15,000 carried on my person at any one moment. This equipment allows me to create amazing photographs in extremely challenging lighting conditions—conditions where lessor cameras and lenses struggle to keep up.
Has your family friend invested in the professional cameras and backup equipment necessary to ensure the best possible photos, even when the lighting is horrible or when something goes terribly wrong with one or more pieces of gear?
Insurance
Good professional photographers carry insurance. My insurance coverage includes general business liability ($2M), equipment insurance ($100k), and professional liability insurance (aka errors and omissions).
If the unthinkable happens, I want to be prepared. That means peace of mind for me and my clients. As an aside, did you know that many venues won't allow photographers on-site unless the photographer carries adequate liability insurance? Is your family friend insured? Are they underinsured?
Motivation
My reputation is on the line every time I photograph a wedding. Therefore I have a strong incentive to do an amazing job—especially in the age of the Internet where every aspect of customer-service is a matter of public record. My livelihood is at stake every time I photograph a wedding. Is your family friend similarly motivated?
Focus
When you a hire a professional to photograph your wedding, we are typically focused on one thing—capturing excellent photos of you and your fiancé. If you hire a family friend, then one may assume that they're going to be friends with several of your guests (or perhaps many of your guests).
In those situations, that family friend may sometimes end up distracted by those guests. It's only natural to spend a few minutes chatting with friends at weddings. And it's awfully hard to refuse to share a drink when offered by a friend. And it's terribly likely that you'll photograph people you know more frequently and with greater enthusiasm than people you don't know.
But, if you hire me, I'll be focused on the single task of creating beautiful photos of you and all of your guests and working every second of the day (except when I spend a few minutes to grab a quick bite during your reception) doing the job you've hired me to do.
Service
As my business is photography, I'm relying on your patronage in order to meet my financial obligations. As such, it is in my best interest to provide good service before, during, and after the wedding.
This service includes providing deliverables (digital negatives, albums, proofs, physical prints, etc.) as well as using my experience to advise you on a wide range wedding related planning considerations. This is my job. It's what I do every day. Can your family friend say the same thing?
I'd like to admit that I fully realize, that for some clients and for a variety of reasons, a family friend may be your only choice. However, I'm hopeful that this brief essay will empower some clients to ask pertinent questions of that family friend before making their final decision.
Los Angeles Photographer Rob Greer, 1439 Las Lunas St, Pasadena, CA 91106 - (626) 523-3123 - info@robgreer.com - Privacy Policy - Terms of Use - Copyright © 2019
Family Friend Photographers