Family Portrait List
Working from a well-organized family photo list ensures things run smoothly on your wedding day.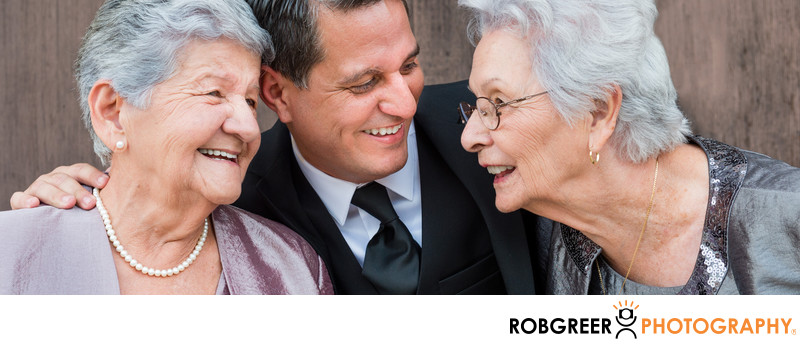 Info Needed
Please include your relationship and the first name of every person in each photograph. You don't need to include your own names on the list of names except when indicating family member relationships (e.g. in the "w/ NAME's area). Here's an example of the preferred format:
Couple w/ NAME's Parents & Siblings (Jane, John, Sally, John Jr.)
I specify this format for reasons of efficiency. With the relationships, I'm better able to organize the list order. With the names, it's easier for us to call on people to make sure they're ready for and included in their photo.
Every desired combination should be listed on a separate line. Only the combinations provided will be called forward for portraits.
Suggestions
Here are several suggested groupings. Most couples include ten to fifteen groupings on their family photo list.
Couple w/ Officiant (

first name

)
Couple w/ Flower Girls & Ring Bearers (

comma separated first names

)
Couple w/ NAME's Parents (

comma separated first names

)
Couple w/

NAME's

Parents & Siblings (

comma separated first names

)
Couple w/

NAME's

Grandparents (

comma separated first names

)
Couple w/

NAME's

Parents & Grandparents (

comma separated first names

)
Couple w/

NAME's

Parents, Grandparents, & Siblings (

comma separated first names

)
When creating your list, you might be tempted to make many group combinations. Instead, consider these two questions when choosing your combinations:
Are the people in this group included in another photo? If yes, does the other photo serve my needs or is this separate photo needed to serve a unique purpose?
This duplication sometimes occurs where you include photos for certain family groupings where you are photographed both singly AND as a couple. In most cases, being photographed either singly OR as a couple will serve your needs.
Minimizing groupings reduces time and stress for both you and your family members.
Large Groups
Large groups are more difficult to pose than small groups. Although I'll photograph everything on your list, whenever possible, please try to organize family groupings so that they include fewer than 12 to 14 people.
Scheduling
Family photos are usually scheduled immediately after the ceremony. This helps guarantee that everyone is present and on time. Budget 3 minutes for each family portrait grouping.
I typically recommend that all family portrait groupings occur in the same block of time. In other words, I would avoid setting aside separate times for immediate family photos before the ceremony and extended family photos after the ceremony.
If you choose to split up your family photos, that means a) we lose efficiencies due to the startup time costs related to organizing and beginning two separate portrait sessions, b) since the immediate family has to be present both times, those participants sometimes find it inconvenient or even frustrating to have to be present twice for formal portraits, and c) the family photos are inconsistent between the two sessions because I'll be working with different backgrounds and different lighting conditions for each block of time.
Let People Know
After we finalize your list, contact each person and them know that they're included in family photos. Stress how they shouldn't wander off after the ceremony or they might disappear to grab a drink, visit a restroom, or smoke a cigarette.
Indoor Portraits
Although most family portraits occur outside, if an indoor location is required, add fifteen minutes to the family photo schedule so that I have enough time to setup and break down my stands and flashes.
The "Everybody" Photo
Photographs that include all guests requires setting aside 10-15 minutes in your schedule. To make sure you can see everyone in the photo, a tall ladder or balcony is typically required. If a balcony or higher vantage isn't available, please plan to provide an 8' ladder at a minimum. The best time to take this photo is immediately after the ceremony and before the family photos.