Wedding Day First Look
Most couples choose to see each other before their ceremony. And they have a better day because of it.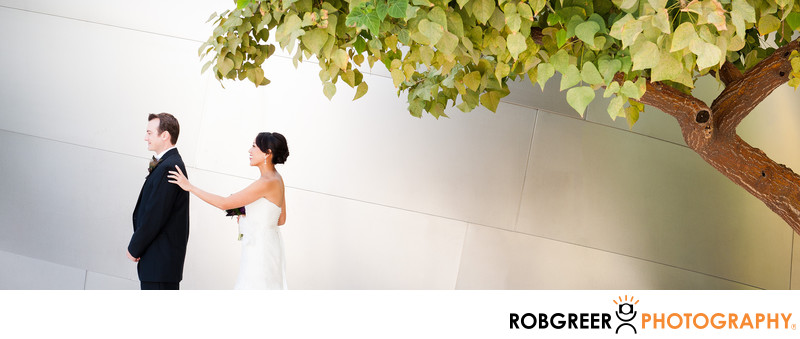 In the wedding industry, Houston wedding photographers refer to the practice of couples seeing each other before the ceremony as a "first look." As you'll come to know, I strongly recommend a first look over other alternatives.
First Look Benefits
One of the most important benefits to seeing each other before the ceremony is that you'll have more time to spend with guests on your wedding day.
In other words, if you see each other prior to the ceremony, when I'm done with the family portraits, you can immediately join your reception and celebrate with your friends, family, and guests instead of spending an hour or two with me taking the kinds of photographs you'll expect me to deliver from your wedding day.
An additional consideration, and without lending too much importance to aesthetic perfection, if we photograph you early in the day when your hairstyles, makeup, flowers, and wardrobes are fresh, your photographs will be better than might otherwise be later in the day.
Weddings are also often affected by uncontrollable factors that can significantly impact your wedding schedule. Based on my experience, it's likely that something unexpected will happen that will affect your schedule.
If we capture your best photographs early in the day, and if your schedule starts to slip, your photography won't be as severely affected. For example, since the start time for your meal service can't be moved, if your ceremony begins later than expected, you may be forced to reduce or even eliminate some of your post-ceremony photography. However, if we capture your creative photographs prior to the ceremony, you're going to have more scheduling flexibility if the unexpected does occur.
Emotional Considerations
You might be wondering about the emotional aspects of seeing each other for the first time. I fully recognize the importance of a "first look."
And so, if you decide to see each other prior to the ceremony, I'll arrange a suspenseful, intimate, and special first look encounter for just the two of you—or as part of a more joyous occasion surrounded by your wedding party or immediate family.
You'll be thrilled with the emotion of that moment and the photographs that I'll create. I guarantee it!
Wedding Ceremony
I'm sure your next question relates to how the first look might affect the impact of your wedding ceremony. You can rest easy in the knowledge that I've seen countless couples who took advantage of the first look but who were also seen crying like babies during the processional.
Those same couples later told me that after the first look they were able to more clearly experience the importance of the wedding ceremony without the distraction of nervousness or anxiety that they would have otherwise most certainly have felt.
Origins of the Tradition
You've probably heard the rumor that it's bad luck to see each before the wedding ceremony. When I was growing up, I'd heard that same story.
So, when I started photographing weddings, my curiosity led me to research the origins of that belief. I discovered that the superstition most likely originated around the time of arranged marriages.
Throughout the Renaissance, a groom might decide to reject an arranged marriage if he wasn't comfortable with the appearance of the bride. However, since a dowry was often involved, that rejection could prove financially devastating to the groom's family; and for the bride, canceling a wedding was an offense so great that generational feuds would often result.
Since your marriage is not arranged and since the threat of family financial ruin and feuds are presumably not an issue, I'd strongly encourage you to consider seeing each other prior to your ceremony.
Related Fun Fact
By 1539, Henry VIII was in his late 40s and had already been married three times. He was considering trying marriage yet again with Anne of Cleves.
Before he agreed to the engagement, he wanted to see make sure she was beautiful so he sent renowned painter Hans Holbein to Germany to paint Anne's portrait.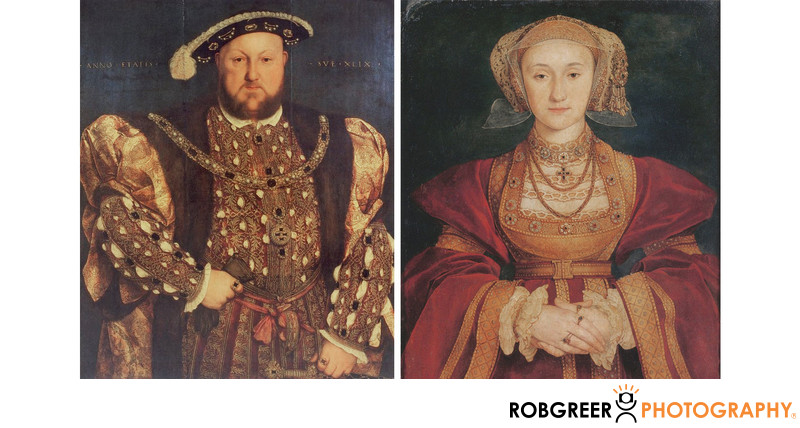 Holbein returned to England with a wonderful portrait of Anne. However, when Anne finally arrived in England and met Henry in person, legend goes that he rejected her as not being good-looking enough and their marriage was eventually annulled.
Many scholars point to this historical event as the origin of it being bad luck to see each other before the wedding.
Your Needs
As you've probably already surmised, I strongly prefer a situation where you see each other prior to the ceremony.
However, if you aren't comfortable seeing each other before the ceremony, I'll accede to your wishes; and I'll still create amazing photographs on your wedding day.
In the end, I realize that this is your wedding and whatever you prefer for you and your fiancé is what is right and proper—and that's all that really matters!