Getting Ready for Your Wedding
I can't wait to create meaningful photographs of you and your wedding party getting ready on your wedding day.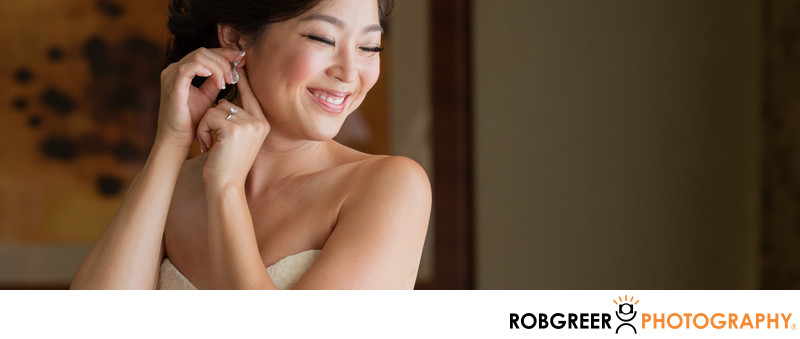 In addition to being an important aspect of the wedding storytelling, getting ready photographs are the most intimate and often most celebrated photos from the day. For scheduling purposes, to capture the typical getting ready photographs, I'll need a minimum 90 minutes.
What Happens
In most cases, when I arrive at hotel or venue, I'll first go to the room where the bride is getting ready. After greeting the bride and introducing myself to any bridesmaids or family members present, I'll briefly assist my second photographer as they begin photographing details.
Assuming that the groom nearby, I'll excuse myself from the bride's room and seek out the groom. When I arrive at the groom's room, I'll greet the groom and then introduce myself to the groomsmen.
Then I'll photograph the groom buttoning his shirt, tying his tie, tying his shoes, and if applicable, buttoning his vest. I also ask the groom's best man or one of the groomsman to help the groom with his jacket. In some cases, I'll ask other groomsmen to assist by making adjustments to his apparel—like straightening the groom's tie.
In some cases, the bride will have asked me to deliver a gift, letter, or card to the groom. When that happens, after the groom is fully dressed, I'll photograph the groom opening his card and/or gift.
Also during this time of day, I'll also capture candid photographs of the groomsmen getting ready. And if time allows, that will sometimes a few photographs of the the groom and groomsmen having a drink together.
I typically recommend setting aside at least twenty to thirty minutes in the schedule for the groom's getting ready photographs.
After photographing the groom, I'll return to the bride's room. At that time, my additional photographer has typically finished photographing the details. At this point, assuming that the bridesmaids are dressed and the bride's hair and makeup are finished, I'll ask the bridesmaids to assist the bride getting dressed.
Before the bride undresses and any girly bits are exposed, I'll turn away and cover my eyes if appropriate. Once the bridesmaids give me the "all clear," I'll turn around and continue my photography. Upon request, I can also leave the room when the bride is getting dressed.
After the bride is fully dressed, I'll photograph her putting on earrings and shoes and photograph the bride's mother assisting with jewelry. If desired, I'll also facilitate the Father's First Look.
Throughout this process, I'll be keeping a careful eye on the time and doing my best to ensure that everyone gets out the door in time for the next event on schedule.
Additional Hints & Tips
Here's some additional useful information to consider as you plan your getting ready time.
Hair & Makeup
Hair stylists and makeup professionals often run late in their preparations to make the bride, bridesmaids, and mothers look beautiful. And that can really throw a big wrench into your schedule. This common problem is even more likely if you have a large wedding party.
Therefore, I recommend that you plan to have your hair and makeup finished a minimum of forty-five minutes before you need to have it finished. By padding your schedule in this way, you avoid being faced with a potentially stressful and frenetic rush to get dressed and out the door.
If your hair stylist and makeup professional finishes on time, then you'll have time to relax with your bridesmaids and not be forced to rush through your getting ready or worse yet, lose invaluable time you've set aside for portraits.
Also, you should avoid being the last person to have your hair and makeup done on your wedding day. Although some hair stylists and makeup professionals recommend that you go last, there are several benefits to being in the "middle of the pack" in terms of getting beautiful.
First, if I arrive earlier than scheduled, when I photograph you hanging out with your bridesmaids, you'll be looking your best and you'll be more likely to appreciate your photographs. Second, if for whatever reason the hair and makeup folks are running late, with your hair and makeup done, you can start to get dressed even if your bridesmaids aren't all yet ready.
Wedding Detail Photos
To help me make the best use of my time, please gather the wedding shoes, the rings (engagement ring, bride's band, groom's band), your wedding invitation, the local newspaper, any special jewelry, and any other details that you want photographed and set them aside in one area of the bride's room. It's ideal if you can assemble this "stack of stuff" sometime before my scheduled arrival.
Wedding Dress Hangers
If we can find a nice location to hang and photograph your wedding dress, that's one of the first things that we'll do when we arrive. Unfortunately, the hangers that come with your dress are often made of unattractive white or clear plastic.
You might consider purchasing a nice hanger for your wedding dress. One place to get some great ideas is to start your search by looking at wedding dress hangers on Etsy.
Hanging a dress can be difficult in some locations. And some styles of dresses don't photograph well on a hanger. If a photograph of your dress hanging by itself is particularly important to you, you might want to consider having a dress-form available in your getting ready room.

Neatness Helps
Keep the "getting ready" rooms as uncluttered as is possible. If a room is cluttered when I arrive, one of the first things I'll do is move all of that clutter to an out-of-the-way area. However, since cleaning your rooms takes time, that's time that won't be spent behind the camera.
Therefore, although I'll certainly do my best to work quickly and shoot around clutter, it sure helps when I can photograph you from any angle and not worry about distracting elements in the background.
As an additional advantage to this model, a tidy room allows everyone to move around freely—and that can really help reduce stress as friends and family gather around you.
Beverages
You might consider providing champagne for the girls and beer or whisky for the boys. Toasting on the wedding day makes for great photographs and more importantly relaxes the bride, groom, and wedding party. That being said, someone should be assigned to keep the groomsmen a bit in check as I've seen instances where the guys are a bit more "relaxed" than they should be so early in the day.
Preparing Clothing
Remove tags and stickers from all clothing, accessories, and shoes prior to the wedding day. You'd be surprised at how many times I've seen department store tags on the bottom of a bridesmaid's shoe in a important photographs!
Handkerchiefs for Guys
An amazingly awesome groomsmen gift are handkerchiefs. Even on cool days in California, the groom and groomsmen will sweat and handkerchiefs can prove to be a lifesaver! And besides keeping sweat at bay, there are a thousand different uses for a handy handkerchief.
Personal Jewelry on Bridesmaids

You might want to ask your bridesmaids to remove their personal jewelry. I've seen instances where some brides haven't liked what the bridesmaids wanted to wear and it becomes an issue on the wedding day. Either the bride is unhappy and asks the bridesmaid to remove the jewelry or the bride says nothing and is then unhappy with the photographs. It's easiest to get out in front of this issue and simply mention it to the bridesmaids before the wedding day.
Strapless Bras
The bride and bridesmaids should wear strapless bras during the day leading up to event. Bras often cause indentations on shoulders that can sometimes take an hour or more to fade. If the bride or bridesmaids plan to wear strapless dresses, this problem becomes especially apparent. If the bride is planning on wearing a backless dress, I recommend that she forego a bra entirely while getting ready.
Getting Ready Outfits
The bride and bridesmaids should consider wearing a cute outfit while they're getting ready. Since I might arrive earlier than expected, and if the bridesmaids are not yet dressed, cute outfits will ensure that you'll receive a higher percentage of photos you love. If you want to give a great gift to your bridesmaids, you might want to present them with cute matching "getting ready" outfits.
Food and Water

It's easy for a bride or groom to miss meals or become dehydrated on a wedding day. It's therefore super important to eat breakfast and something around lunchtime even if you're not hungry. You're going to need your energy.
Tailoring is Important
I've lost count of the number of times that I've seen grooms or groomsmen in ill-fitting suits and shirts. Just as brides always have a dress fitting before the ceremony, grooms should be similarly encouraged to have their tuxedo or suit fitted.
Also, even though many the tuxedo rental outlet offers free shirts, they almost never fit. The sleeve length is almost invariably too long or too short or the collar is too tight or too loose.
Therefore, the groom and groomsmen should purchase their own brand-new off the rack shirts that are well fitted and that exactly match their neck size and sleeve length.
Guys are notoriously poor shoppers so explicit directions on how to visit a department store and get fitted is a good idea. Pointing them to Nordstrom's is typically your best bet.
Getting Ready Locations
Whenever possible, try to ensure that both of you get ready at the same location. First of all, traveling between locations to photograph you separately can be logistically problematic.
Even if the additional photographer is tasked to photograph the one of you, that additional photographer is not me and thus the photography of the each one of you will not be perfectly matched.
Get Permission from Hotel
If you're getting ready at a hotel and hope to have some photos on hotel grounds, check with the hotel long before your date to get your permissions squared away. Many hotels restrict photography on their premises if you're not getting married there as well.