Planning Your Reception
Plan your reception carefully to make the most out of the time you'll spend with friends and family.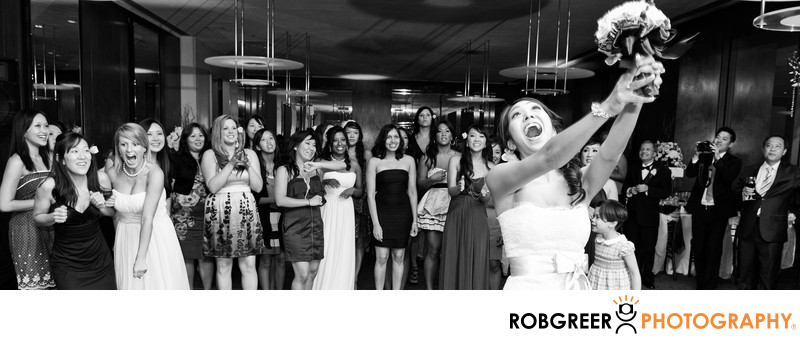 For reception coverage, I'll photograph traditions as they happen. I typically provide little if any direction to you or your guests except when I'm asked to take a group portrait.
At formal receptions, I may sometimes direct guests so that they will appear more presentable in these photographs. For informal receptions, I may be more casual in my posing or direction.
Outside of those portraits, I'll photograph you, your guests, and your traditions candidly, capturing natural moments.
Sample Schedule
Although you or your coordinator can certainly create any reception schedule that meets your needs, here is an example that might make it easier to better understand the timing for the events occurring at a typical reception.
The Traditions
I'm often asked about your reception schedule and how that relates to my photography. With that concern in mind, I've developed at set recommendations to consider as you plan the events that follow your ceremony.
The grand entrance occurs when a couple is formally introduced to wedding guests. Although you're typically presented as husband and wife at the end of your Ceremony and you may have mingled with guests during the Cocktail Hour, this final formal introduction is a reminder to everyone that it's time to get the party started.
It's very common to precede the bride and groom's entrance with an introduction of wedding party members. And, in some cultures, the parents and sponsors also precede the bride and groom in the grand entrance. The entire grand entrance sequence typically takes less than 5 minutes from beginning to end.
That being said, it's important to start organizing and gathering wedding party and family members 15 minutes prior to the grand entrance as it's often difficult to pull everyone together and coordinate everything. Your wedding planner or DJ should coordinate this for you, but your timeline can often start slipping right here if everyone is not working together.
To aid in this potential scheduling issue, you should inform your wedding party that they will be needed 15 minutes prior to the start of the grand entrance so that they won't wander off.
After your grand entrance, it's perfectly natural to immediately make your way to the dance floor to begin your first dance. There are several reasons why having your first dance immediately after your grand entrance is quite important.
First of all, it's surprisingly difficult to command the attention of your guests. I have countless photographic examples of reception traditions featuring a couple in the foreground and distracted or disinterested guests in the background.
If your first dance follows the grand entrance, and since guests haven't yet been served their meal, their attention will be fully focused on you and your partner. If you wait until later in the evening, after the meal has been served, some guests will invariably be more focused on eating, talking, clinking their silverware, visiting the bar, or taking a restroom break than they are on observing your first dance.
Likewise, prior to the meal service the tables that are typically visible in the background of your photos are still pristine and free of clutter. Later in the evening, after the meal begins, the tables aren't as immaculate.
Finally, and perhaps most important to your photography, if your reception is held outside or in a room with windows, and if your first dances is held prior to sunset, I'm able to photograph your dance using natural light—which can often yield more pleasing photographic results than flash photography. The first dance typically takes about 5 minutes from beginning to end—depending on the length of your song.
Many couples schedule a father + daughter and mother + son dance during the reception. These dances serve as a great opportunity to honor your parents. I also like to mention that these dances also offer an opportunity to say special and meaningful things to your parents that might otherwise go unsaid outside of these important moments. I prefer that the parent dances follow the first dance for all of the same reasons that the first dance immediately follow the grand entrance.
In regards to the specifics of this tradition, some couples are tempted to combine the father + daughter and mother + son dance into a single song where both couples are on the dance floor at the same time.
There are several reasons why I recommend that both father + daughter and mother + son have separate songs and their own dedicated time on the dance floor. First, having separate songs honors each parent individually and provides an undiluted moment with parent and child.
This approach typically makes the dance more special to both the parent and the child. From a photographic perspective, these separate dances allow me to focus on a single couple rather than split my photographic time across two couples.
As you might imagine, with two people dancing and moving, there are only a few moments during each dance where both parent and child have their faces simultaneously visible. And if there are two couples on the dance floor, the challenge of capturing meaningful candid moments where both parents and both children have amazing expressions while dancing is extremely great.
And imagine the end of the song. If I have two parents hugging two children, that hug lasts only a second, and with two couples on the dance floor some part of that exchange will be missed. That's why I recommend that each parent have their own dedicated dance. Like the first dance, each parent dance takes approximately 5 minutes from beginning to end—depending on the length of each song.
If you follow Jewish traditions, you'll probably include a hora in your schedule. If you're not familiar with this dance, guests will form a circle, hold hands, and then step forward and to the right with their left feet, following with their right feet. Their left foot is then then brought back and followed by the right foot.
These movements are done while holding hands and circling as a group in a fast motion to the right. Wedding receptions with many guests often form several concentric circles.
During this dance it's customary for guests to raise the bride and groom on chairs above the group. I typically recommend that the hora follow the first dance and parent dances. Since you're often quite disheveled after a hora, let's just say that I'd prefer to photograph you in a more pristine condition during the more sedate dances. The hora takes approximately 5 to 10 minutes to complete.
Although the toasts may occur almost any time before, during, or after the meal service, I typically recommend that they're scheduled during the salad service. Prior to your event, you'll want to make sure that your audio engineer has wireless microphones available for the speech makers.
It's terribly difficult to make beautiful photographs of your important friends and family members when a short cable and a wired microphone force them to stand near a not-so-attractive DJ booth or bandstand.
During the speeches, I typically recommend that the speaker stand next to or directly behind the couple. This allows me to capture photographs of the three of you together, focusing on your interplay during the speech.
As a corollary, placing your friend and family member nearby enhances the moment and often results in physical contact that stirs even greater emotions than might otherwise occur. And of course those emotions photograph beautifully. It's best to ask each speaker to only speak for 3 minutes but budget approximately 5 minutes per speaker when drafting your schedule.
In terms of scheduling your meal service, most couples budget approximately 60 minutes for the salad and main courses. Naturally, if your guests are being served multiple courses, time budgeted for the meal should be extended.
During the meal service, photography of you and your guests is typically suspended as photographing folks with their mouths full is rarely a good idea. In between courses, when everyone at a table is finished with their dish, I'll sometimes photograph guests in pairs or small groups depending on how well I feel the guests will react to that kind of coverage.
In wedding coverage lasting six or more hours, I ask that you provide me and any additional photographers with a meal service. The timing of that meal is very important and thus deserves some mention here. I typically request that we be served at the same time as the couple.
And there's a super good reason why I make this request. Since you and your fiancé are served first, you're also usually the first people who finish the meal. After finishing your meal, you're probably going to want to greet some of your guests, either by you visiting their tables or by them visiting yours.
I feel that it's important to capture those moments in photographs and if we aren't served food until after your guests are served, then we'll typically be eating in a nearby room while those moments are happening. To that end, please contact the venue or catering manager and make the following request:
"My wedding photography is extremely important. As such, I'd like to request that the photographer meal be served immediately after you deliver the salads to me and my fiancé. By serving the photographers earlier than might be normal for your venue, I can ensure that the photographers will be finished in time to capture photos of us mingling with our guests. I'm aware that it's most common to wait until all the guests are served before serving vendors, and I can certainly understand that approach, but if that is the policy at our wedding, certain important photographs may be missed. Thanks so much for making this request happen for us!"
This request is necessitated because some venues view this request as highly unusual and are reluctant to serve photographers prior to all guests being served.
Also, we would hope to be able to eat our meal in a location where we're not visible to your guests but we're near enough that we can keep an ear open to anything special happening.
In other words, things can happen unexpectedly when we're away and we sometimes need to drop everything and return to photograph something (e.g. impromptu speeches, unexpected changes to the schedule, etc.) If we're secluded or far away, it might be difficult to return fast enough to cover those happenings. This isn't something you should typically worry about as we can figure out where we should eat for ourselves.
However, in some instances, this may become a concern if a planner or coordinator would like us to eat hundreds of yards away or leave the venue for a meal. When that happens, uncontrollable variables can enter into the mix which can potentially impact your reception photography.
At many weddings, couples visit each table at the reception and greet guests. There are two ways that we can approach this tradition. In some cases, you may ask for a photograph with every person at every table. T
his is typically done by having half of the table stand behind seated guests at the other side of the table. In some cases, large centerpieces can make this photography quite challenging but there are other posing methods and strategies when your décor prohibits this method.
Alternatively, you may simply want to casually mingle with your guests at each table, greeting them individually. The former method will typically ensure that you'll have at least one photograph with every guest at your wedding. The latter approach will yield more casual photographs with only a fraction of your guests appearing in your corrected photography.
I don't feel that either approach is superior to the other and neither is required. In terms of time budgeting, for posed table photography, plan to spend at least 3 minutes at each table. If you don't have enough time to visit all of your tables, it's also appropriate to visit tables in order of guest importance, and only finish those that your schedule allows.
I typically recommend that an optional slideshow precedes the after-dinner traditions. As someone who creates slideshows for a living, I have several tips you should consider when making your own slideshow.
There are few reception traditions that will kill a mood faster than a poor slideshow. Therefore, when creating your slideshow, in order to have the greatest impact and not bore your guests, I'll make the following recommendations:
Keep your slideshow it short. Limit it to 5 minutes or less.
Keep your slide duration short. Most photos should appear for less than 1 second. Your most important photos should appear for fewer than 3 seconds. For the wedding-related slideshows I share in my presentations, photos are visible for less than half a second. This short slide duration concept keeps your slideshow moving quickly and creates a greater sense of excitement for viewers.
Pick a universally popular upbeat song with a duration shorter than 5 minutes.
Avoid "fancy" transitions. Fading in and fading out between photographs is far more effective than using any of the distracting transitions offered in some slideshow software.
Remember that many reception guests aren't family members and thus many of those folks won't be able to identify many of the family members in your photographs. Therefore, intersperse fun and active photos of you and your spouse between static group photos of your family.
After the meal, sometime during the evening, you'll probably observe a cake cutting tradition. Rather than wait until later in the evening, my recommendation is that you cut your cake soon after dinner. There are several reasons why I offer this advice.
According to some cultures, it's impolite for wedding guests to leave prior to the cake cutting ceremony. Unfortunately, some guests will invariably need to leave your reception early. Many of those folks will then feel embarrassed that they're breaking tradition and will therefore sneak out of your event.
In some instances, some guests will be strongly committed to following proper etiquette will stay at your reception no matter what—even if they would prefer to leave. I can't speak for you, but at my own reception, I'd prefer that my guests have the best possible experience at my event. I'd like them to feel free to come and go as they please, without the constraints of tradition.
In addition to considerations related to the tradition itself, if you serve your cake early, you increase the likelihood that everyone will be present to enjoy dessert. As the night progresses, folks are less likely to be hungry or crave late night sweets as alcohol consumption comes into play.
Additionally, since wedding cake slices are often placed at each table setting regardless of whether or not someone is seated, when guests leave the event or don't return to their table, those cake slices remain uneaten.
Given the expense and thought you've put into your wedding cake, wouldn't you like the cake to be enjoyed by everyone? Therefore, if you serve the cake after dinner, you increase the likelihood that all of your guests will enjoy your wedding cake. The cake cutting tradition typically takes less than 5 minutes to complete.
After the cake cutting tradition is observed, I recommend that you immediately transition to the bouquet and garter toss traditions. Some folks would instead prefer to spread these traditions throughout the evening, but I've come to the conclusion that the cake, bouquet, and garter traditions should follow each other to ensure the best possible dance floor continuity.
As you may have experienced at other weddings, it's sometime difficult to get folks onto the dance floor. And when dancing is interrupted, it's often difficult to get dancing to resume with the same intensity seen prior to the interruption—even with an awesome DJ. Therefore, I'd contend that if you avoid breaking up your dancing with traditions, a more continuous party atmosphere is created. The bouquet and garter traditions typically take less than 10 minutes to complete.
When your regular dance set commences, I typically only need photograph 3 to 5 songs in order to capture a feel for your event and tell the story that you and your guests danced at your reception. Although I'm happy to extend coverage far into the night, it's simply not necessary unless you'd like me to be there.
As you and your guests become more and more disheveled (and perhaps intoxicated), you'll find that the photographs from the later evening are typically less appealing to you and your friends. That being said, there are sometimes exceptions to this recommendation. If you and your friends are "partiers" you might want to extend my coverage to including more of your dancing.
Stay Fresh
As the night progresses you apparel, hair, and makeup will undergo changes. The earlier you can perform your traditions, the greater the chance that you'll appear fresh in your photos.
Wedding Cake Placement
Where you decide to place your wedding cake is quite important. At many weddings I've seen the cake placed on a small table in an unattractive corner of the room. The cake will be featured in many photographs and thus attractive background helps me create better photographs.
Speech Length
Speeches are an important tradition during wedding receptions. However, when you invite someone to speak at your event, I recommend that you emphasize that their time on the microphone must be brief.
For best results, I recommend that the parents, best man, and maid of honor be asked to limit their speech to three minutes. If you don't specifically mention a strict time limit, someone may go on for ten, fifteen, or even twenty minutes!
And those extended speeches can negatively impact the reception schedule or even damper the overall festivities. And, since your catering service typically won't deliver food courses during a speech, the freshness of your meals is also impacted.
Also, unless you have tons of free time in your schedule, I recommend that you avoid having the DJ ask the audience if anyone else would like to speak who is not on the schedule. I've seen issue with speeches come up at countless weddings and thus these factors bear close consideration as you plan your reception.
Food Photography
If you'd like photographs of the food served to you and your guests, then please ask your catering manager to make sure that we're served the same meal as you and your guests.
When we take our dinner break, before we consume the meals, we'll create amazing photographs of each course. This forward-thinking planning is necessary as it's typically not possible for us to disturb the chef and catering staff during the meal service and inappropriate for us to take and photograph one of your guest's meals.
Speaker Placement
When photographing a wedding and reception, some enemies to any photographer are poles, speakers, and other electrical components. Nothing will detract from a perfect photograph more than a pole or wire in the background.
Although I'll avoid composing photographs where the background scenery is unattractive, it's sometimes unavoidable when speakers, wires, heaters, signs, poles, screens, and projectors are placed near prominent locations including the aisle, altar, head table, dance floor, or suspended from the ceiling.
When you're hiring your music, electrical, or lighting specialists, make sure that they're aware of your concern. Ask them what they plan to do in order to minimize the visual impact of their service at your wedding.
For projectors and screens, I recommend that you keep them hidden and don't set them up until moments before it's time to project your slideshow—assuming that you're having a slideshow. If that's impossible, try to keep the screens far away from the head table. If you have a floor plan with these components, please feel free to send it to me prior to your wedding day and I'll be happy to review it for any potential gotchas.
Entrance Aisle
When working on your reception floor plan, try and ensure that you have included an aisle wide enough for you and your partner (or wedding party couples) to enter together—side by side—during the grand entrance introductions.
I've seen situations where little or no aisle exists and wedding party members are forced through a slalom course between tables and chairs before they reach the dance floor or head table.
Dance Floor Lighting
Ask your DJ or lighting engineer about the dance floor lighting. When multicolor "disco" lights are used on the dance floor, the faces and apparel of you and your guests might feature Technicolor skin blotches or pinpoints of colored light based on the lights being employed.
You might want to mention to the DJ that you'd prefer that they refrain from that kind of lighting until the general guest dancing starts. I'll often mention this consideration to DJs prior to your grand entrance but those folks don't always heed my suggestions.
Some DJ and lighting folks might employ small spotlights follow you and your wedding party as they make their grand entrance. Unfortunately, those smaller spotlights can't cover your entire body through the course of your entrance and thus only a portion of each person's body will be in that lighting—which can really play havoc with your photography.
The Same Day Edit
Some videographers or photographers offer a "same day edit" service where video or photographs from the wedding day are shown to the guests during the reception. Although a same day edit may sound like a great idea, I strongly recommend that you don't include one at your wedding reception.
First of all, with a same day edit you'll spend many minutes viewing exactly what you just experienced instead of spending quality time with friends and family at your wedding.
The same day edit product idea stems from the certainty that videographers or photographers who show their work at your reception are hoping to impress your guests with their work and thus garner more business.
In other words, people who may be getting married soon or who know someone getting married soon will ask for the videographer's or photographer's business card. To me, your wedding reception shouldn't be a sales tool for your photographer or videographer.
Folding Tray Stands
You might think about asking your catering manager to limit the use of folding tray stands at your reception. Tray stands, also known as a tray jacks, are used by servers to help them manage large trays as serve your guests or clear tables.
Although I recognize the importance of those devices, some caterers use tray stands liberally and place them in inopportune areas that result in them being in photographs far too frequently.
At some weddings, I've seen tray stands positioned on the dance floor for many more minutes than necessary. In other instances, tray stands are positioned next to the cake table, the sweetheart table, or other important décor detracting from the location aesthetics. In other instances, tray stands remain overly long in the reception area and present your guests with piles of dirty dishes.
And in yet other situations, tray stands are used to store wine bottles and water pitchers throughout the evening and when they're used in that manner, those tray tables become part of reception décor—and that typically isn't a good thing, especially if the tray tables are directly behind guest tables and wine bottles and water pitchers are in the background of important photographs.
Photo Booth Location
If you plan on having a photo booth, I'd recommend that you locate in an area outside of your main reception area. At most wedding venues, the best location is often the lobby area directly outside the reception hall.
The reason behind this suggestion is that the photo booth typically detracts from your reception décor and makes it more difficult for your photographers to find acceptable angles where the photo booth is not in the background.
Additionally, the staff manning the photo booth may appear in the background of important photographs—sometimes in inappropriate attire. Although having the photo booth inside the reception hall can sometimes slightly increase participation, the aesthetic concerns may be of higher importance.