Reception Bouquet Toss
The bouquet toss tradition is observed at both classic and modern weddings.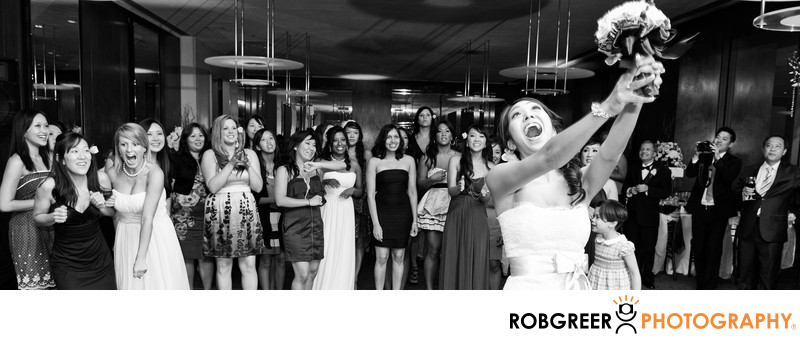 For this reception event, brides usually stand at the dance floor's edge with a special "toss bouquet." Single women are asked to join and the bouquet is thrown to the waiting crowd. Whoever catches the bouquet is traditionally destined to marry next.
I recommend that this tradition immediately follow the cake cutting. Although some couples prefer spreading out reception traditions, when the bouquet toss immediately follows the cake cutting (and the garter toss follows the bouquet toss), you'll have better dance floor continuity.
As you may have experienced at other weddings, it's sometimes difficult to get folks onto the dance floor. And when dancing is interrupted, it's often difficult to get dancing to resume with the same intensity seen prior to the interruption—even with an awesome DJ.
With this in mind, I'd contend that if you avoid breaking up your dancing with traditions, you'll ensure a more continuous party atmosphere.
The bouquet toss tradition typically takes less than 5 minutes.