Wedding Party Photos
The phrase relaxed directed portraits describe the photographs that we'll create with your wedding party.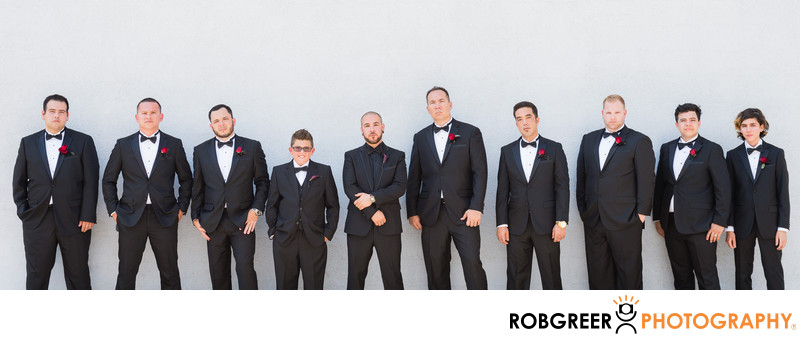 It's "relaxed" because I work really had to make sure that everyone has a fun time as we take these photographs. In other words, we'll avoid having everyone running frenetically from place to place as we try capture cool photographs.
It's "directed" because I'll gently guide you and your wedding party so that you'll look amazing in your photographs.
Although we'll include a bit of traditional posing, most of our time will be spent creating the candid-looking, fun, and quirky photographs that you've come to expect in Houston wedding photography.
Who You Should Include
Relaxed directed portraits typically include you, your partner, and the immediate wedding party typically consisting of you and your bridesmaids, bridesmen, groomsmen, and groomsmaids.
Individual photos will include the entire wedding party and you with each member of your side of the wedding party. And of course, a few fun or candid photos at the end that time is always great.
Family members, flower girls, and ring bearers are typically excused for these group photos unless you specifically want them there. Those participants are usually photographed during the Family Portraits portion of your day.
How Long It Takes
After the First Look, I usually spend half of the allotted time photographing you and your fiancé with your wedding party. The other half of the time you've set aside for relaxed directed portraits is spent with you and your fiancé alone.
If you'd like me to do my best work, please set aside an adequate amount of time for relaxed directed portraits. If you budget adequate time for relaxed directed portraits, then I'll have enough time to create amazing portraits.
If you don't provide me with enough time, then the quantity and potential the quality of portraits will suffer. If it happens that we don't have the recommended time available for portraits, although you may look at those photos after your wedding and think that they're awesome, I'll always know that with more time they might have been even more fabulous.
For a wedding party of up to 6 attendants, most couples budget for at least 1 hour and 45 minutes for relaxed directed portraiture.
For a wedding party of 8 or more attendants, budgeting 2 hours is typically recommended. For wedding parties of 20 or more, you should allocate 2.5 hours.
Although I can certainly create amazing photographs with less time or when you're running behind schedule, if you'd like an abundance of fabulous photographs, it's always best to provide me with as much time as possible.
As an aside, if these recommended times can't be met, you might consider forgoing typical wedding party portraits and reserve the relaxed directed portraiture time for just you and your fiancé.
For just the two of you, I typically recommend that you budget at least 1 hour and 15 minutes for relaxed directed portraits although 1 hour and 30 minutes is preferred.
Locations
The location you select for relaxed directed portraits matters. I'm often asked to photograph weddings at amazing churches and venues, but some locations are not ideal for wedding party portraits.
In regards to the venue you select, we first need to consider whether the venue has enough free room for creative portraits.
Although you may have booked a great venue, many amazing locations around that venue space may be taken up by ceremony seating, reception seating, or used as staging areas for other vendors as they prepare for your wedding day.
Likewise, some venues won't allow access to the venue prior to the ceremony except within certain limited time frames. If you're planning on using nearby locations for your portraits, other considerations come into play including permits, parking, traffic, viability, and convenience.
Although I'll often discuss these issues during our initial meeting, it's vitally important to discuss your wedding portrait location plans with me far in advance of your wedding day.
Sunset Photographs
Some couples hope for sunset photographs. And although I'm happy to accommodate those requests, the sunset you might be expecting may never occur. In most cases, a typical "sunset" requires the presence of clouds or a related atmospheric disturbance. And that doesn't always happen in Houston.
Although this sunset light is certainly complementary for photography, the storybook sunset you may be expecting may not happen. Please take that into consideration when setting your expectations and planning sunset photos.