Los Angeles Wedding Photographer
I am a Los Angeles wedding photographer specializing in candid and fun photos of couples celebrating life events.
Why Me
I'll take candid, quirky, and fun photos of you and your fiancé that are incredibly awesome. Most importantly, you'll love your wedding photographs. And me.
One day, your children will cherish those photos. Later, your grandchildren will hang those pictures on THEIR walls. Because they love you. And because the photos are going to be superduperamazing.
So if you want for really, really, really good wedding photos, please consider me. I'd love to tell your story.
I also own a super cute dog and I like mocha coffees and I've won tons of photography awards. I only mention those facts because that's what photographers are supposed to explain when we differentiate ourselves.
LA Weddings
Are you looking for LA wedding photographer who can capture capture meaningful candid pictures, but who also has a fun and quirky photography style? Do you want your photos that look different from typical wedding photos?
If so, you've found your wedding photographer.
better photographs for picky people
Los Angeles is best known for amazing weather, spectacular beaches, crazy traffic, making blockbuster movies. And it's also known for Rob Greer. Not really. Nobody knows who I am outside of you and a few people on the west side. But I'm still working to change all that.
My Photography
If you'd like to view my best work, please don't miss my gallery of favorite wedding photography featuring hundreds (and hundreds) of my best images captured at local venues in Los Angeles.
Kind Words
I include a client review at the top of this overview because the experience of having me photograph your event is as important as the images that I'll create for you and your fiancé. Here are some choice words that a past Los Angeles client shared about me and my work:
"I didn't want my photos to look like every other wedding photo I had ever seen … Rob far exceeded our expectations that day—he was fun, relaxed, and willing to roll with the punches. It felt like one of our good friends was our photographer—we were so comfortable with Rob and our family all fell in love with him too.

By the end of the night, everyone was laughing and joking with him as if he were a part of our family—he fit right in. My husband and I were still out, celebrating with our friends on the night of our wedding and Rob was home uploading photos of us from the day to Facebook.

We were SO excited and couldn't believe we were able to get a sneak peek of the images so quickly. Then, while we were on our honeymoon, he delivered the other 857 photos. We spent an entire afternoon in Bora Bora flipping through the images, each one of them better than the last." – Erika Lehmann Brown
If you'd like to see more comments from real clients, check out my Client Reviews. Or you can take a few minutes and check out my Yelp profile.
I always include a second photographer in your wedding-day coverage. Although I can cover weddings by myself and have done so countless times, I can't be in two places at once and thus I believe that a second photographer is a valuable addition to your coverage plan.
When I photograph your wedding, my main focus is on the story of your day and the people attending your event—specifically you and your fiancé, the wedding party, and your family and friends.
When I work alone, although I'll photograph many scene-setting details, an additional photographer will always have more time to concentrate on those particulars and dedicate significant time to capturing the most important décor and details. Examples of those details include shoes, dresses, flowers, rings, table settings, invitations, food, cakes, venues, and signage.
Another consideration in favor of a second photographer is realized when we consider your wedding ceremony coverage. If an additional photographer is present during the ceremony, my colleague will be positioned to simultaneously capture photographs from secondary angles. That coverage wouldn't be possible if I was working alone.
And of course, by having two photographers, multiple angles of approach help ensure that important moments aren't missed when the angle of view for one photographer is obscured for any reason.
As an additional benefit, with an additional photographer, I move less during the ceremony which means that I'll be less noticeable to your guests and thus their attention remains on you.
Including an additional photographer also helps me do my best work. If I need a critical piece of equipment, I can send my second photographer to locate that item while I continue my photography.
Likewise, when I'm dehydrated, then that additional photographer can locate refreshments while I continue to photograph your friends and family. And when I'm directing large groups of people, the second photographer is helpful in organizing the participants.
Finally, as I drive to your wedding and between locations, the additional photographer allows me to take advantage of the carpool lanes which can often be a life-saver in our crazy Los Angeles traffic. It's no idle exaggeration to mention that my additional photographer also performs hundreds of other duties throughout the day that help me make your photographs better.
Words
These words describe various aspects of my personality and my craft and will perhaps give you a better idea as to how I approach photographing a bride and groom or a couple on their special day. To this end, I've gathered together several descriptive words that sum up my approach to wedding photography.
Aplomb
At your event, you'll always find that I'm cool and composed, even if highly stressful happenings occur on your wedding day. I'm a Marine Corps combat veteran and I can promise you that your celebration is going to be far less stressful by comparison.
Commitment
When you hire me to photograph your event, you can rest assured that I'm the one who is fully committed to photographing you and your fiancé on your wedding day. I'll begin preparing days or even weeks before your date and in the end deliver everything I've promised, working to exceed your every expectation.
Confidence
As your professional photographer, I have the requisite knowledge necessary to deliver a complete photographic story. My confidence in these abilities is reflected in my pictures and in the manner in which I carry myself throughout your wedding.
Consistency
Although some photographers may occasionally create noteworthy imagery, I deliver exceptional results week after week—at wedding after wedding. My consistency yields excellent photographs throughout the day—as you get ready, through your romantic and family portraits, during the ceremony, and throughout your reception.
Creativity
Harnessing my imagination, I search out photographic moments that will reflect your personal sense of style while pushing the boundaries of wedding photography as an art form. As your photographer, I'll embrace my creativity to ensure that I capture imagery unique to your event.
Curiosity
How can I grow as a photographer? I ask myself this question every day and strive to find answers through research, seminars, conferences, experimentation, and of course through incessant practice. I never stop striving for professional growth.
Desire
As a Los Angeles wedding photographer, I am driven by a keen desire to create exceptional photographs. And since this desire for "photographic perfection" is very strong, my clients reap the benefits.
Diplomacy
Every wedding provides a unique cultural mixture of friends, family, strangers, and vendors. These attendees often have unique needs and expectations. As your photographer, I've found that to successfully interact with these individuals, I'll have to call on my skills as a careful diplomat.
And through my diplomacy, I'm able to help ensure that your attendees remain happy and content throughout your wedding day (at least where my photography is concerned).
Equipment
My photography equipment isn't directly related to my professional characteristics, but it's important enough that I feel it warrants mention within this context.
Although it may be true that a professional photographer can create above average images with consumer-grade or even disposable cameras, I believe that to consistently deliver exceptional images at every wedding requires professional-grade cameras and equipment.
With that philosophy in mind, I'll photograph your event with the best camera equipment available.
Ethics
When I speak of the ethics of being a wedding photographer, I'm not speaking about moral principles as much as I am about conduct and my belief in the rightness and wrongness of actions.
As a studio owner, I make decisions every day about the direction of my business and how I treat my clients—including brides and grooms and same-sex couples.
First, I want to make sure that I'm trustful without being foolish. And that means that I'm open to new ideas and I request open feedback. Also, and perhaps more importantly, I will meet my business obligations without complaint and regardless of circumstances.
I also provide clear documentation for couples that outlines mutual responsibilities and I follow them to the letter. Finally, I strive to treat everyone with professional respect and courtesy.
Experience
I began work as a professional photographer in 2004 and those years of experience are reflected not only in my photos but also in the way I conduct my business. With hundreds of weddings under my belt, I will point to the idea that there is no substitute for experience.
Geniality
On the wedding day, I maintain a friendly and cheerful manner for both you and your guests under all circumstances. I feel that my demeanor not only influences the emotions of couples, it also reflects on them personally as we are constantly in the eye of everyone attending weddings.
Knowledge
My personality is such that I constantly search for knowledge. And my interests are incredibly varied in that regard. In fact, it's a rare hour that passes that I'm not looking up a new concept, fact, or tutorial on the Internet to feed my curiosity.
I've been photographing weddings since 2004, and that thirst for knowledge has led me to study every nuance related to being a wedding photographer. And beyond the direct knowledge needed to perform my work, I've also learned countless facts and pieces of trivia that will help make your day run smoother than it might be otherwise.
Patience
Things don't always go as planned. And in some cases, some people around us may have priorities different than our own. In those cases, I strive to project patience and calm in these situations so as to keep the mood positive for the people around me.
Personality
I'm a likable, approachable guy—particularly when I'm behind a camera. I'm engaging, forthright, courteous, and a little bit irreverent. Before you hire me, you should pass the frosty beverage test I invented.
After our initial meeting, if you feel like you could comfortably join me at a local watering hole and have two frosty beverages of your choice and not talk about photography or your wedding, then I'm probably a nice enough guy to hang with on one of the greatest days of celebration in your life.
Planning
Benjamin Franklin is said to have written, "By failing to prepare, you are preparing to fail." Although Franklin didn't really write that, I tend to take this idea to the extreme. If you've poked around the hundreds of pages on this website, you may have begun to get the idea that I like to plan for the unexpected.
And although a wedding-day plan rarely makes it through the day without on-the-spot changes, if you fail to plan , then you increase the chance for failure.
Preparedness
Preparedness is similar to the planning I mentioned above but it's differing in that preparedness is really a series of precautionary measures intended to deal with potential disasters or mitigating negative outcomes.
There are many ways that I ensure preparedness including a focus on planning, working closely with other vendors, education for myself and my clients, and ensuring that I have a plan B for everything related to my coverage of a wedding day.
Reliability
As a photographer, businessman, and human being, I'm incredibly reliable. I never give up and I'm never late. Tenacity is my byword in everything I pursue and that dedication to my personal ideals is reflected in the work that I deliver for my clients.
Skill
My skill as a photographer is probably the first factor that drew you to my work as my skills are most clearly evidenced in my wedding photography portfolio.
And although I feel that my work is highly evolved and technically superior to many of my contemporaries, I constantly work to improve my skill and my craft and test myself against other photographers constantly through photography competitions.
If you check out my photography awards you may get a better idea as to how those skills are constantly tested.
Speed
Time is the most valuable commodity at weddings. As you plan your event, you might think to yourself that it's going to be an incredibly long day. However, let me assure you that the day goes by in an instant.
With that in mind, I've learned to work quickly so as to ensure that you receive the highest quantity and variety of photographs possible while at the same time learning how to quickly adjust to rapidly changing situations in order to capture candid moments as they happen.
Stoicism
Photographing weddings in LA can be really hard work. The day after I photograph an event, I'm a physical wreck. This is not uncommon in the industry and vendors often call this physical phenomenon a "wedding hangover."
However, although I may be in physical pain or tired or under great pressure on your special day, you'll find me performing my job without complaint, even in the face of extreme adversity.
Storytelling
Great wedding photography is about more than just taking pretty pictures. It's also about storytelling and knowing how to artistically photograph your once-in-a-lifetime event while juggling hundreds of details, considerations, and concerns.
Talent
Education, desire, and passion are important for any craft and photography is no different. However, talent is a natural endowment of ability.
I feel uncomfortable claiming that I have a talent for photography because so many of the skills I've obtained have been solely through education and hard work.
That being said, there are some aspects of my photography that have undeniably always come naturally to me—most importantly my eye for composition.
Technique
Going hand in hand with talent comes technique. For the purpose of this discussion, when I speak of technique I'm referring to how I use my equipment to best effect as well as how I work with my subjects in order to elicit the best possible responses leading to the most natural-looking photographs.
My Promise
If you select me as your wedding photographer, I promise to ...
show up excited and early
make you and your fiancé will be the center of my universe
always act in your best interests
be respectful to your friends and family
provide an excellent value for your investment
capture the candid, emotional photographs that make your wedding special
photograph the small moments that together tell the story of your day
create pictures that will make you happy and amused
capture images that will evoke feelings of love and togetherness
exceed your expectations
Simply said, you'll love what I do for you.
Photographer's Creed
(this is my fun rewrite of The Rifleman's Creed)
This is my camera. There are many like it, but this one is mine. My camera is my best friend. It is my life. I must master it as I must master my life.
Without me, my camera is useless. Without my camera, I am useless. I must use my camera well. I must take better photos than my competitors. I will...
My camera and I know that what counts at weddings is not the number of photos that we take, the noise we make, nor the dark clothes we wear. We know that it's great photos that count. We will create.
My camera is human, even as I, because it is my life. Thus, I will learn it as a brother. I will learn its weaknesses, its strength, its parts, its accessories, its viewfinder and its lenses. I will keep my cameras clean and ready, even as I am clean and ready. We will become part of each other. We will...
Before everyone, I swear this creed. My cameras and I are the defenders of human memory. We are the masters of matrimony. We are the saviors of my life.
So be it, until the wedding is over and there is no more cake, but rest!
Wedding Budgets
When you're looking at wedding photographers and you're trying to figure out your budget, you're probably at a loss as to how much you need to spend for great pictures. Although I don't have a perfect answer for you, I'd like to refer to a quote from John Ruskin that nicely summarizes my opinions on how much you should spend.
"It's unwise to pay too much, but it's worse to pay too little. When you pay too much, you lose a little money, that's all. When you pay too little, you sometimes lose everything, because the thing you bought was incapable of doing the thing it was bought to do. The common law of business balance prohibits paying a little and getting a lot — it can't be done. If you deal with the lowest bidder, it is well to add something for the risk you run, and if you do that, you will have enough to pay for something better." – John Ruskin
For more information, check out the detailed wedding pricing information found on this website. As an additional note, although I'd love to provide you with a discount for my services, my prices already reflect an incredible bargain.
When looking at other photographers of my caliber among my peer group, my prices are already lower than the prices offered by similarly skilled photographers offering comparable products and services.
Hiring Family Friends
If you're thinking about hiring a family friend to photograph your wedding, that might not be your best choice.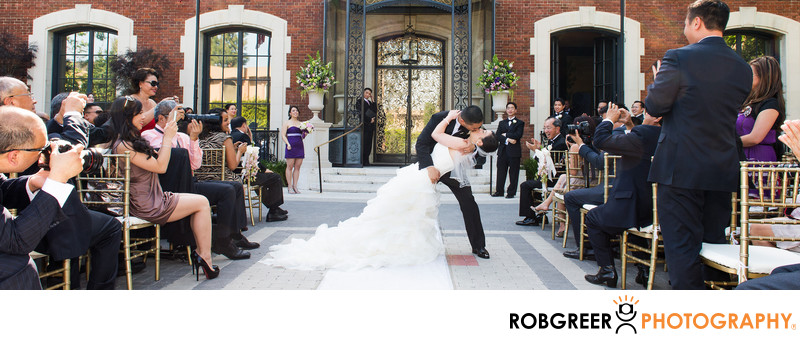 I correspond with hundreds of Los Angeles area wedding photography clients every year. And over the course of that year, someone may share that they didn't select me as their wedding photographer because a family friend, amateur photographer, or photography school student offered to photograph their wedding.
Although I can only speculate that budget or family politics is involved in that decision, I'm going to be bold and mention that hiring one of those folks to photograph a wedding would ever be a good choice.
Experience
I photograph an average of 30 weddings every year. And, over the course of my career, I've photographed hundreds of weddings. This means that I've worked in hundreds of different locations, in challenging lighting situations, under all kinds of weather conditions, and all the while living and working through countless wedding day "emergencies."
Although a family friend may be quite good at holiday photos or family photographs, can they cope with a wide range of highly stressful, rapidly changing situations and still capture amazing photographs of the hundreds of special moments that will happen on your wedding day?
Skill
I'm an experienced camera operator. Over the course of a single year, I'll take over 100,000 photographs. And, on a typical wedding day, I'm changing equipment settings constantly.
After my many years as a professional wedding photographer, my cameras and lighting equipment have become extensions of my body. I no longer consciously think about camera adjustments or lighting situations. I simply view a scene and adjust my equipment automatically.
And because of that skill, I'm able to capture rapidly evolving wedding moments as they happen. Without those skills, important wedding moments can be missed—moments that can't be recreated. You only get one chance at weddings.
Equipment
I invest heavily in equipment. For example, my primary wedding photography equipment includes two camera bodies on my person, two professional lenses, and two flashes. And in addition to my primary equipment, I also have a backup camera (D800), four backup lenses, three backup flashes, and a host of other lighting gear.
To put this in perspective, at a typical wedding I arrive with over $25,000 in camera equipment with about $15,000 carried on my person at any one moment. This equipment allows me to create amazing photographs in extremely challenging lighting conditions—conditions where lessor cameras and lenses struggle to keep up.
Has your family friend invested in the professional cameras and backup equipment necessary to ensure the best possible photos, even when the lighting is horrible or when something goes terribly wrong with one or more pieces of gear?
Insurance
Good professional photographers carry insurance. My insurance coverage includes general business liability ($2M), equipment insurance ($100k), and professional liability insurance (aka errors and omissions).
If the unthinkable happens, I want to be prepared. That means peace of mind for me and my clients. As an aside, did you know that many venues won't allow photographers on-site unless the photographer carries adequate liability insurance? Is your family friend insured? Are they underinsured?
Motivation
My reputation is on the line every time I photograph a wedding. Therefore I have a strong incentive to do an amazing job—especially in the age of the Internet where every aspect of customer-service is a matter of public record. My livelihood is at stake every time I photograph a wedding. Is your family friend similarly motivated?
Focus
When you a hire a professional to photograph your wedding, we are typically focused on one thing—capturing excellent photos of you and your fiancé. If you hire a family friend, then one may assume that they're going to be friends with several of your guests (or perhaps many of your guests).
In those situations, that family friend may sometimes end up distracted by those guests. It's only natural to spend a few minutes chatting with friends at weddings. And it's awfully hard to refuse to share a drink when offered by a friend. And it's terribly likely that you'll photograph people you know more frequently and with greater enthusiasm than people you don't know.
But, if you hire me, I'll be focused on the single task of creating beautiful photos of you and all of your guests and working every second of the day (except when I spend a few minutes to grab a quick bite during your reception) doing the job you've hired me to do.
Service
As my business is photography, I'm relying on your patronage in order to meet my financial obligations. As such, it is in my best interest to provide good service before, during, and after the wedding.
This service includes providing deliverables (digital negatives, albums, proofs, physical prints, etc.) as well as using my experience to advise you on a wide range wedding related planning considerations. This is my job. It's what I do every day. Can your family friend say the same thing?
I'd like to admit that I fully realize, that for some clients and for a variety of reasons, a family friend may be your only choice. However, I'm hopeful that this brief essay will empower some clients to ask pertinent questions of that family friend before making their final decision.